Markel, Aspen Holdings (FirstComp)
Specialty insurer Markel Corp. has struck a deal worth at least $135 million to acquire Aspen Holdings, which sells workers' compensation under the name FirstComp to small businesses in 31 states.
Aspen, which is headquartered in Omaha, Nebraska, operates primarily through FirstComp Insurance Co., a Nebraska-domiciled insurance company; FirstComp Underwriters Group, Inc. and FirstComp Insurance Agency, Inc., which act as managing general agents; and REX, Inc., which operates as a wholesale intermediary.
Aspen's subsidiaries underwrite more than $300 million of gross written premium annually. They operate through a network of 9,000 retail agents and employ 500 people in Nebraska, Rhode Island, Nevada, California and Florida.
Aspen will continue to operate as a separate business unit, with Luke Yeransian, Aspen's current CEO, as president. The operating unit will be part of Markel's specialty admitted segment, headed by Mike Crowley, Markel's president and co-chief operating officer. Markel, based in Richmond, Va., plans on using Aspen's technology platform to offer additional Markel Specialty products.
Aon, Hewitt Associates
Aon Corp. has agreed to buy human resource consulting firm Hewitt Associates in a deal worth $4.9 billion. Aon intends to integrate Hewitt with its existing consulting and outsourcing operations, Aon Consulting, and operate the segment globally under the newly created Aon Hewitt brand.
Swett & Crawford, Cooper Gay
In a joint announcement from London and Atlanta, Swett & Crawford and Cooper Gay, the London-based independent wholesale, reinsurance and specialist retail insurance broker, announced that they have completed the combination of the two firms
The combined group will place approximately $3.5 billion in premiums in the United States, London and international insurance markets and employ over 1,500 staff. The combined Group will be led by Cooper Gay's CEO Toby Esser as CEO. Swett & Crawford's CEO J. Neal Abernathy will continue as president and CEO of Swett & Crawford, and will also become a member of the new holding company's executive committee. All of the group's operations in North America will report to Abernathy.
Keystone, Hall & Clark, Ison
Keystone Insurers Group has added two more franchisees to its expanding list of Kentucky partner agencies. Hall & Clark Insurance Agency in Prestonsburg and Ison Insurance Agency of West Liberty join KIG's 17 Kentucky partners and more than 210 independent agencies in six states.
From This Issue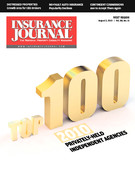 Top 100 Retail Agencies; Homeowners & Condos; Autos