Aon, Hewitt Associates
Aon Corp. said it will cut 1,500 to 1,800 jobs over the next three years after acquiring Hewitt Associates. Aon expects to save $355 million per year, including $280 million per year by eliminating jobs. The cuts and restructuring are expected to be completed by the end of 2013.
Aon closed its acquisition of Hewitt Associates, a human resources specialist, in October. The combined company had about 29,000 employees. The job cuts will trim 5 percent to 6 percent of that work force.
The company says the plan will cost $325 million to implement.
Copyright 2010 Associated Press. All rights reserved. This material may not be published, broadcast, rewritten or redistributed.
Markel, Aspen, FirstComp
Markel Corp. completed the previously announced acquisition of Aspen Holdings, Inc., a privately held insurance group that provides workers' compensation insurance and related services, principally to small businesses, in 31 states.
Aspen, headquartered in Omaha, Neb., operates primarily through FirstComp Insurance Co., a Nebraska-domiciled insurance company, and FirstComp Underwriters Group Inc. and FirstComp Insurance Agency, Inc., which act as managing general agents.
Aspen will continue to operate as a separate unit, with Luke Yeransian, Aspen's current CEO, as president. The unit will report to Mike Crowley, Markel's president and co-chief operating officer, as part of Markel's specialty admitted segment.
Markel Corp. markets and underwrites specialty insurance products and programs to niche markets.
One Risk
One Risk Group LLC based in Pleasanton, Calif., opened an office in San Diego. In addition, the company hired Jorie Burton as director of the firm's Property and Casualty Claims division, focusing on claims advocacy for the firm's clients.
Burton is a member of the California Bar Association and has several years of legal experience specializing in the insurance industry.
High Power, Iroquois
High Power Insurance Service of Rancho Cucamonga, Calif., joined The Iroquois Group, according to agency principal Alphonso Rudolph. Iroquois is a network of property and casualty insurance agencies with more than 1,800 member agencies in 37 states.
ISU, Cerva, Browning, Quinn & Co.
ISU International added ISU Cerva, Browning, Quinn & Company to the ISU Network.
ISU Cerva, Browning, Quinn & Co. has been servicing the Salt Lake City area for more than 30 years and is owned by David Cerva. The company specializes in benefits management.
The ISU Network, founded in 1979 and headquartered in San Francisco, consists of more than 90 independently owned and operated offices.
InStar Services
Troy, Mich.-based InStar Services Group, a national disaster restoration and reconstruction firm with 22 offices nationwide, opened two new locations. The Seattle office is located at 605 W. Main Street in Centralia, Wash., and the Southern California office is located at 420 Apollo Street, Unit C in Brea, Calif.
The Seattle office space houses water extraction and drying equipment, and the employees working out of this office specialize in commercial construction. The Southern California office space specializes in commercial disaster recovery covering Southern California, Arizona and Nevada.
"Seattle and Southern California are plagued with wildfires, flooding, earthquakes and landslides," said company CEO Mark W. Davis, explaining that InStar will be better able to provide disaster restoration services on the West Coast.
Ironshore, Distinguished Programs
Bermuda-based specialty insurer Ironshore Inc. and New York-based program administrator Distinguished Programs Group LLC formed a joint venture acquisition vehicle targeting the managing general underwriter and program manager segments of the insurance distribution business.
The business plan for the new unit, IDP Holdings LLC, contemplates multiple acquisitions of small- to mid-sized program managers, as well as the development of startup operations built around key underwriting teams, according to the firms.
IDP Holdings is targeting acquisitions of companies with $5 million to $25 million in premium, experienced management and solid underwriting results. Distinguished will provide strategic and financial management, and Ironshore will provide insurance capacity to acquired companies. Financial terms will vary by acquisition.
Kevin Kelley, CEO of Ironshore, will be chairman of IDP Holdings. Jeremy R. Hitzig, CEO of Distinguished Programs, will be CEO of IDP Holdings.
"With Ironshore's capacity and broad underwriting capabilities, acquisition candidates in a number of industry segments and product lines will be considered although an emphasis will be placed on quality of management and demonstrated underwriting profitability," Hitzig said. "We believe that IDP Holdings is a great option for business owners seeking to exit the business over the short to medium term, or those seeking a partial liquidity event but with a desire to have an ongoing stake in the business. Either way, we will look to leverage the full resources of Distinguished and Ironshore to support and build the business in the future."
Through its platform in Bermuda, including Iron-Starr Excess, Ironshore writes property and excess casualty insurance for global commercial risks.
Distinguished Programs offers insurance programs for residential and commercial real estate owners and property managers including property, liability, directors and officers' liability, crime and high limits of umbrella insurance. Its products are distributed through a growing network of more than 2,000 independent agents and brokers. Distinguished's subsidiary companies include SES Insurance Brokerage Services Inc., and China-based ReSource Pro, a business process outsourcing company for insurance intermediaries.
From This Issue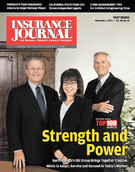 Focus on Professional Liability/PLUS; Habitational/Dwellings; Agents E&O Survey