Below are four agency E&O tips, taken from Chris Burand's E&O Blog found exclusively on InsuranceJournal.com.
Divorce
In personal lines, it is important to verify that the person requesting a change in coverage has the authority. This can be difficult in divorces. Some states have a rule that when divorcing, neither spouse can cancel or modify insurance coverage, including not paying the premium, without advance notification to the other party. This rule may offer some protection to agencies, but it is better for the agency to ask questions of who is requesting the change and why the change is being made. Then, document the file thoroughly.
Binding Authority
For an agency to properly bind a risk, the risk must absolutely fit within the agency's binding guidelines. This does not mean underwriting guidelines nor qualifying for a quote. Binding guidelines generally have two major components: the policy limit and time. The policy limit can be property and liability. Second, agencies have to pay attention to the time allowed and limits. Everyone who writes binders or binds without a binder should have a copy of each company's binding authority at all times, and refer to it regularly.
Claims
No one in an agency should convey that a claim will be paid or not be paid. An insurance contract is between the insured and the insurance company. Behind the scenes, an agency may influence whether a claim should be paid, but they should never communicate directly with an insured as to whether the claim should be paid. This includes repeating what a claims adjuster, especially an independent adjuster, tells the agency.
Disclaimers
Most agencies have standard voice mail disclaimers that state, "No coverage can be bound or obtained by leaving a voice mail." This creates two E&O exposures. First, many agencies do not mandate that all office phones use the disclaimer. The second exposure is created by cell phones. Many producers buy their own phones, so they do not want this disclaimer on their personal phones. Use the same voice mail disclaimer on all devices, regardless of the device type or who owns the device.
From This Issue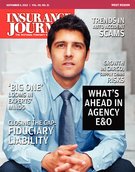 Focus on Professional Liability / PLUS; Habitational / Dwellings; Agents' E&O Survey; Bonus: Free Ad Readership Study ($2500 Value); Bonus: The INDIANA Issue (Special Supplement)