NetVU (Network of Vertafore Users)
During their annual convention in March, more than 50 members of NetVU (the Network of Vertafore Users) devoted a day to serving at the San Antonio Food Bank. Volunteers sorted 12,000 pounds of food, enough for 10,000 meals: big numbers that illustrate the magnitude of the need to help those with hunger. Shown: NetVU partners, board members and volunteers sort food during the organization's Day of Caring in March 2016 at the San Antonio Food Bank.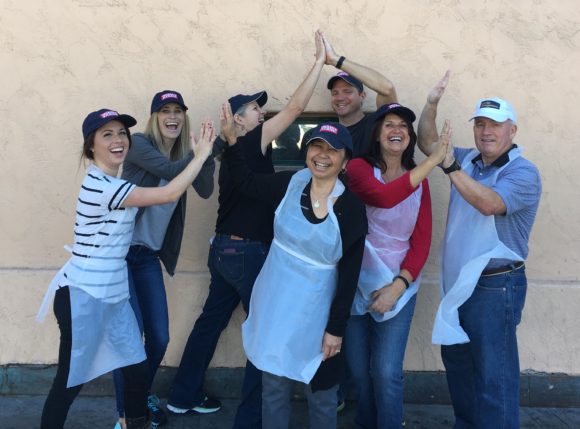 Wells Media Group
On Oct. 14, 2016, Wells Media Group staff, publisher of Insurance Journal, volunteered at Father Joe's Villages to distribute lunch to those in need. Julie Tinney, chief marketing officer, whipped up some grub in the kitchen, Mark Wooster, chief financial officer, distributed drinks and Barbara Whiffen, operations manager, served not only lunch but smiles as well.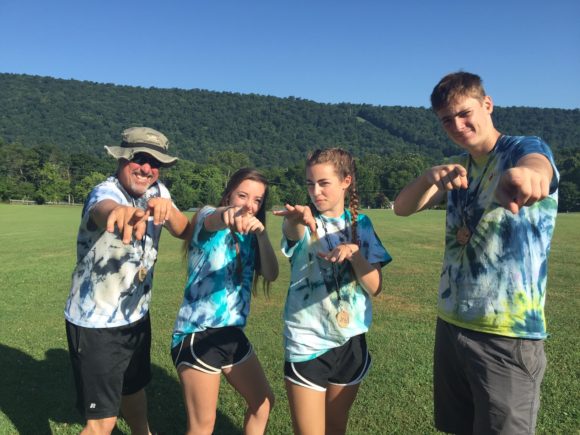 Aartrijk
Peter van Aartrijk (left in photo) of the Fairfax, Va.-based insurance marketing firm Aartrijk, heads each summer to Romney, W.Va., for volunteer work with Jeremiah Project (jeremiahproject.org). The Jeremiah Project takes middle school students on mission trips to make homes drier, safer, warmer and more accessible for families in Virginia and West Virginia.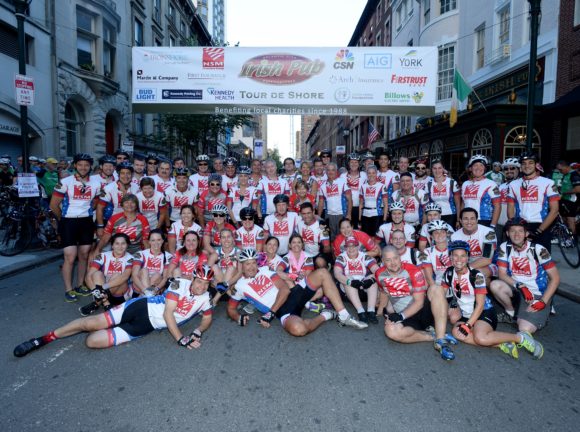 NSM Insurance Group
For the past 12 years, NSM Insurance Group has been involved in the Irish Pub Tour de Shore by producing a team of riders and volunteers as well as being a sponsor. This year, NSM riders and volunteers raised $30,000. The tour is a 65-mile charity bike ride from an Irish Pub in Philadelphia to one in Atlantic City. It supports the Irish Pub Children's Foundation, a non-profit that supports first responders and their families who are killed or severely injured in the line of duty, improving relationships between law enforcement and the community they serve and encouraging children through education and recreation.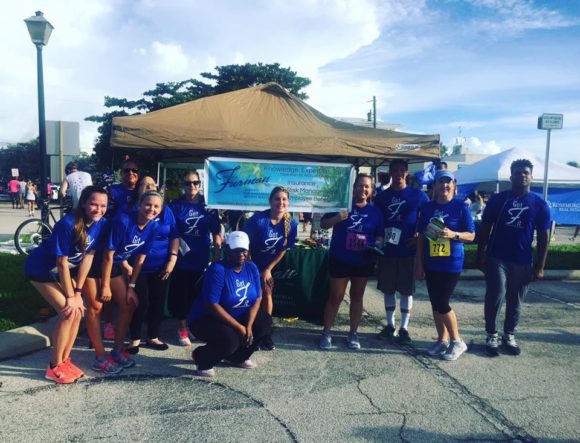 Frank H. Furman
It is important to the staff at Furman Agency to give back to children's charities that will help advance their education and give them an opportunity to succeed in life. The agency gives back by sponsoring local walks and runs, hosting school supply drives and holiday toy drives, funding college scholarships, along with supporting local events.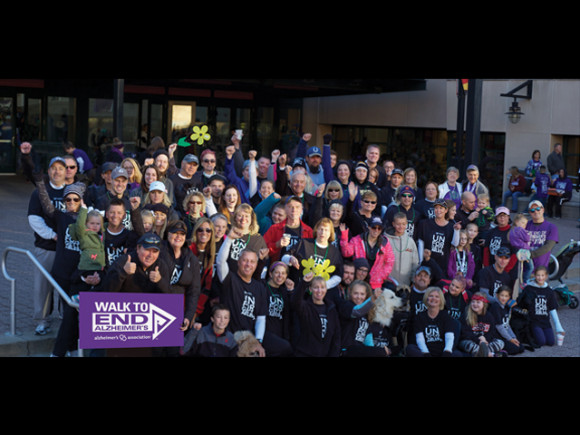 Shepherd Insurance
Shepherd employees and family at the Alzheimers Walk in Indianapolis, Ind. In October 2015, a group of approximately 80 Shepherd employees gathered to support The Walk to End Alzheimer's. The team raised over $12,500. The team, named the "Shepherd Unforgettables" was featured on local area billboards thanking us for our hard work, fundraising tactics, and team spirit. The money raised went toward research that will one day end Alzheimer's for future generations. In 2016, Shepherd will make a corporate donation to the Alzheimer's Association in lieu of spending funds on trinkets and goodies for clients.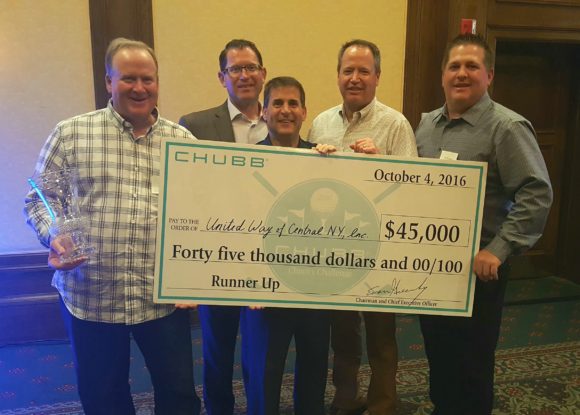 Haylor, Freyer & Coon
Haylor, Freyer & Coon Inc. incorporates community support as a core value of the agency. This comes in the form of financial support and volunteering. Staff is afforded time off with pay to support charities important to them. In 2016, over 75 employees took part in a three-day project to improve the facilities at one of PEACE Inc.'s Head Start Schools. The entire school was repainted, book shelves were constructed. Carriers partners also play a role. The Chubb Charity Classic is an annual event that provides funding for local communities.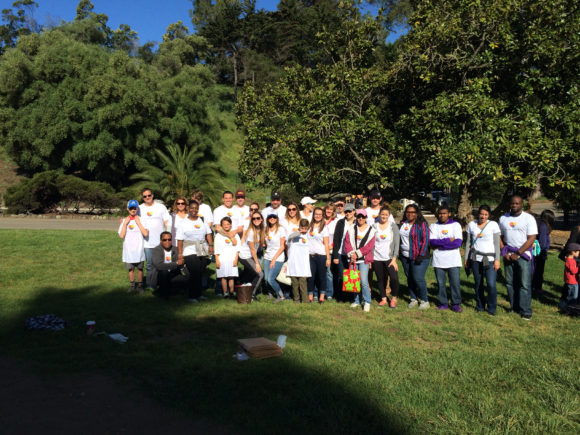 Heffernan Insurance Brokers
Heffernan has been involved in the community since its inception in 1988. In the past 10 years, Heffernan has donated over $6.5 million to charity. Heffernan has been among the Top Greater Bay Area Philanthropists since 2003. Heffernan believes giving back, whether through volunteer opportunities or donations, is a way to improve the communities where we live and work for the future. Heffernan employees average $2,500 in donations per employee and sponsor five official avenues for charitable giving: employee matching; Garee Lee Smith Scholarship Award; up to four paid days off of volunteer time; grant donations and Grant-a-Wish — a program that grants wishes to families with children ages 4-18.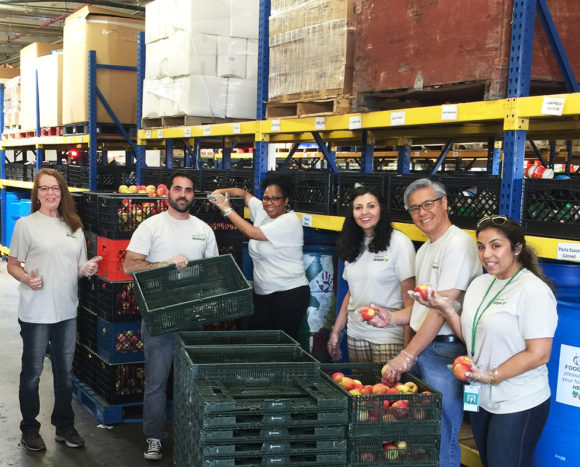 Answer Financial
In June, associates from Answer Financial celebrated its annual Month of Service by donating more than 600 hours of time at seven non-profit organizations across the country. Answer Financial's Month of Service aligns with that of its parent company Allstate, with the intention of making a concentrated impact in the community. Shown: Answer associates working with MEND in Southern California's San Fernando Valley. The volunteer-powered organization offers a foodbank, clothing center, health care center, job training, homeless programs and more.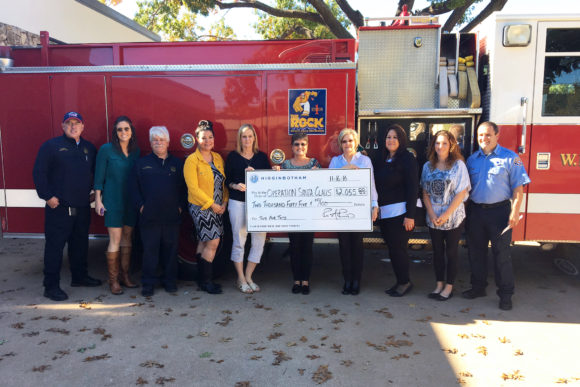 Higginbotham
In partnership with the North Texas Community Foundation, the firm created the Higginbotham Community Fund in 2011 to provide monetary support to nonprofits operating in its markets throughout Texas. Grants from the fund are distributed to nonprofits selected by an advisory committee comprised of Higginbotham employees. All employees have the opportunity to influence how much money gets put into their local community. Since inception, the Higginbotham Community Fund has generated $1.04 million in employee contributions and pledges, $764,945 of which has been granted to more than 200 nonprofits in Texas.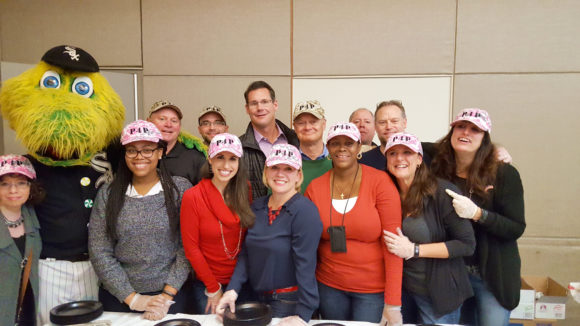 Risk Strategies Co.
The Chicago office of Risk Strategies Co.'s community service initiative called Risk Strategies Cares, headed up by Diane Walsh, Dawn Woodring-Mosley, Alex Krause and Sherman Reynolds, took part in a Veteran's Day Celebration at the Jesse Brown VA Medical Facility in Chicago. In addition to being an event sponsor, volunteers served pizza to veterans in attendance and delivered pizzas to those unable to attend. The event was coordinated with Pizzas4Patriots (www.sgtpizza.org), and the Voluntary Service Department at the Veterans Administration.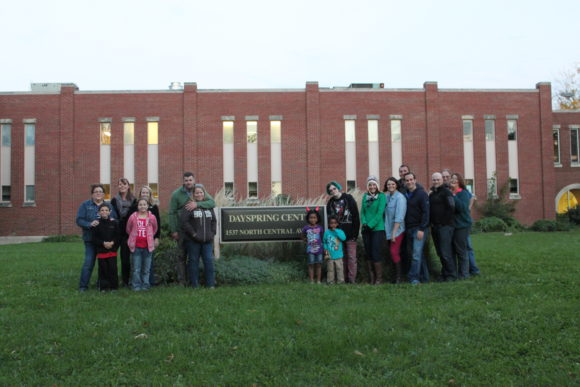 MJ Insurance
MJ Insurance exists to inspire the success, fulfillment and well-being of each person served: associates and their families, business partners, clients and the community. The organization chooses two key "charities of choice" in which to focus its efforts in each office. Any fundraising efforts go to support these two charities. Whether it be putting on a fall festival at a local homeless shelter, hosting a food drive for the families in the ICU at a local children's hospital, or serving meals to the homeless, the MJ Insurance team joins together to give back throughout the year.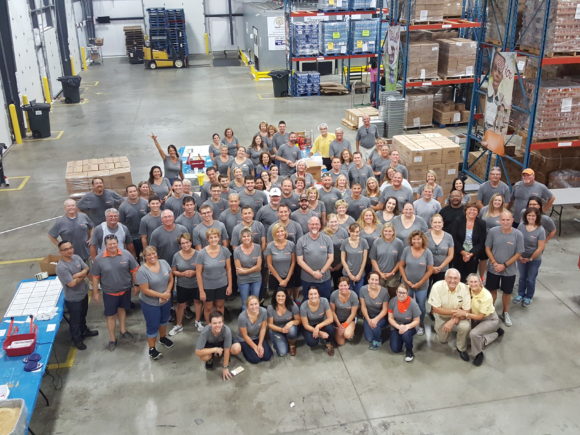 Norman-Spencer Agency
Norman-Spencer employees this year have spent 1,050 hours using both company and personal time volunteering in their local communities for causes. In 2015, the agency established NS Cares, a nonprofit foundation that has raised over $200,000 in donations. In 2016, NS Cares donated more than 147,000 meals to charitable organizations. Future plans include a possible attempt to break the world record for most relief meals packaged in a one hour time period. The current record was set in 1993 and is more than 530,000 meals.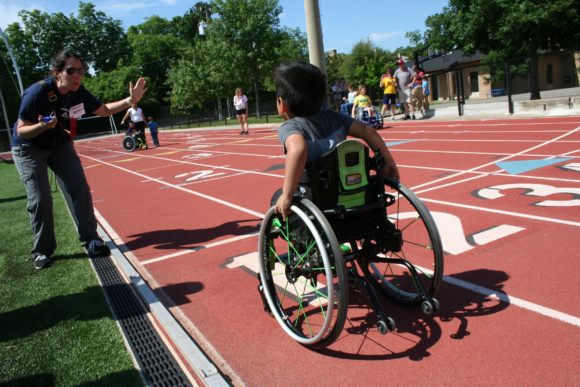 The IMA Financial Group
Shortly after the incorporation of IMA Financial Group Inc., the company's founders created the IMA Foundation, which consistently receives 2.5 percent of IMA's annual profits. In 2015, IMA donated 6,852 hours of community service. New this year is IMA's first #SprinkleGoodwill social media campaign designed to brighten someone's day while sharing it on Facebook, Twitter or Instagram using the #SprinkleGoodwill hashtag. The IMA Foundation will award one #SprinkleGoodwill participant with a $1,000 donation to the 501c3 nonprofit of their choosing. Visit www.sprinklegoodwill.com.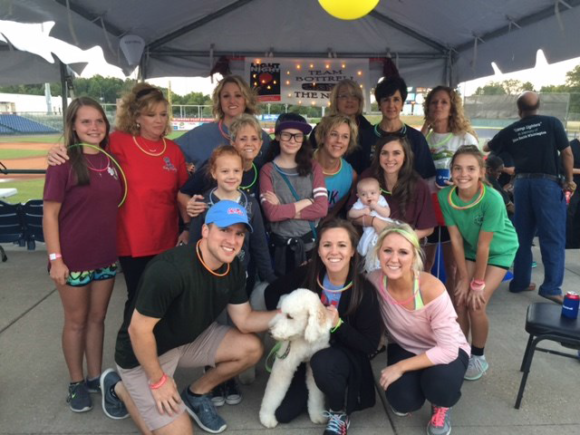 Fisher Brown Bottrell Insurance
Community involvement means a lot to the employees of Fisher Brown Bottrell Insurance Inc. In September, associates gathered at Trustmark Park in Jackson, Miss., and walked in support of the Leukemia & Lymphoma Society's "Light the Night Walk." A bake sale was held and balloons were sold to raise funds for the event. The Bottrell Division came in second place in overall fundraising and raised $3,241 in support of this event.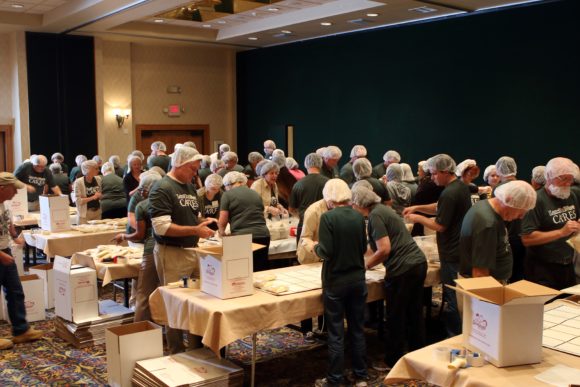 LassiterWare Insurance
In 2008, LassiterWare's Foundation, LassiterWare Cares, was formed and by LassiterWare and its employees. The foundation is operated by the employees and a large portion of the funding comes from monthly employee donations. The mission of the foundation has primarily focused on helping out fellow employees of LassiterWare in times of financial hardship, however LassiterWare Cares has introduced the inaugural LassiterWare Day of Service. Since 2015, LassiterWare employees have put in more than 2,200 volunteer hours within their communities, and contributed $30,000 to the foundation as well as local charity events. LassiterWare has donated $16,000 to the foundation and provides additional support for other local charity events.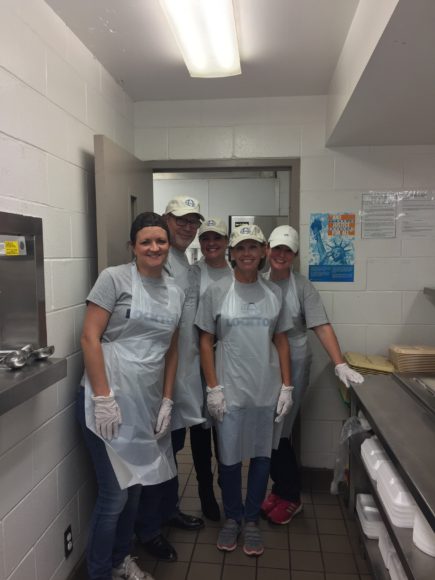 Lockton Cos.
Lockton associates in the Houston office plated meals to serve to women and children at the Star of Hope Women and Family Emergency Shelter. The shelter serves three meals a day to about 300 people daily. Women In Leadership, a group that supports women's career development at Lockton, organized the volunteer event where Lockton associates alternated shifts and served families hot meals. Associates who were unable to volunteer donated prizes for the shelter's Harvest Festival. The associates also donated toys and toiletries for the families.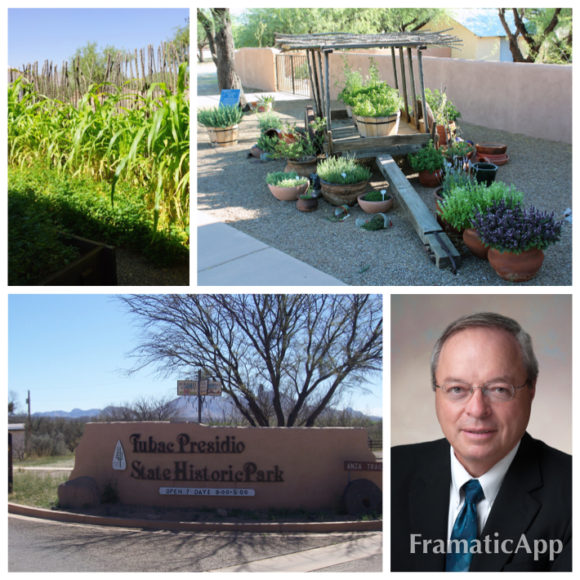 Crest Insurance Group
Dick York, vice president of administration at Crest Insurance and his wife Myrna are volunteers with the Tubac Presideo State Park. Opened and dedicated Sept. 28, 1958, this historic state park is known as Arizona's first state park. The park was due to close in March 2010 when the Arizona Legislature swept Arizona State Parks funds. Dick and Myrna York are among the Tubac residents who answered the call to volunteer and keep the historic site open and preserve Arizona' history. They are leaders of the "Botanic Brigade," working evenings and weekends to keep the gardens fresh, colorful and inviting to enhance visitors' experience.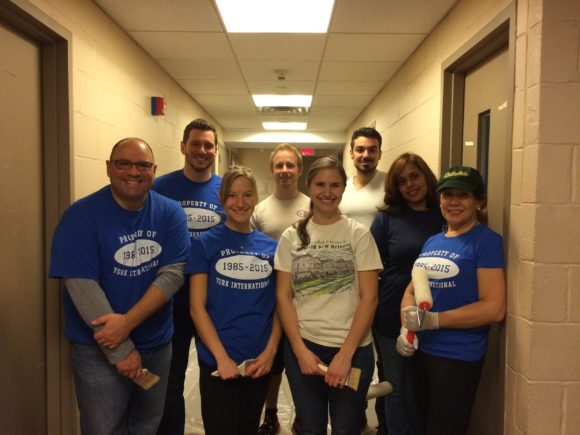 York International Agency
York International has a history of community involvement, specifically with a focus on Westchester County. In 2011, York's Branding Committee asked employees to submit their nominations to create a charity name for York, and "York International Cares" won. All employees currently receive a "York International Cares" t-shirt when participating in a sponsored charity event. One way employees help raise money for charities is by participating in the monthly "Dress Casual for Charity" day. After a $5 donation, an employee has the option of dressing in casual attire.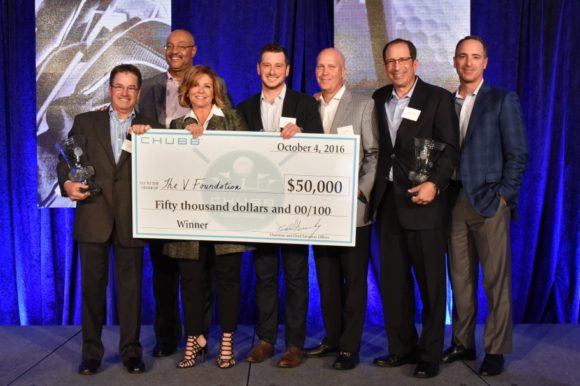 Chubb
The Chubb Charity Challenge began in 1996 as a local golf tournament hosted at the Metedeconk Golf Club in New Jersey, where clients and brokers raised $25,000 for local charities. Since then the challenge has grown to include over 6,000 teams of five who golf for a local nonprofit of their choice. It has raised nearly $13 million. The tournament is centralized with teams from each local Chubb branch competing at the local level, and winners advancing to the finals. The local level tournaments begin in May with the finals taking place in mid-fall.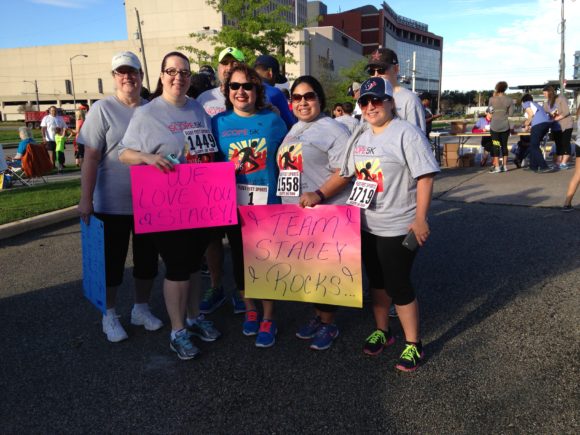 Insgroup
When cancer touched one of Insgroup's employees for the third time, her co-workers showed their support by participating in MD Anderson's Annual 5K Sprint supporting Colorectal Oncology Prevention and Education in March 12. Employees formed "Team Stacy" to make posters in support of those that participated in the 5K sprint. The personal reward of going the distance with a co-worker far outweighed the physical effort that Saturday morning. In addition to the sprint, our co-worker was honored that day for her courage and strength in her fight with cancer.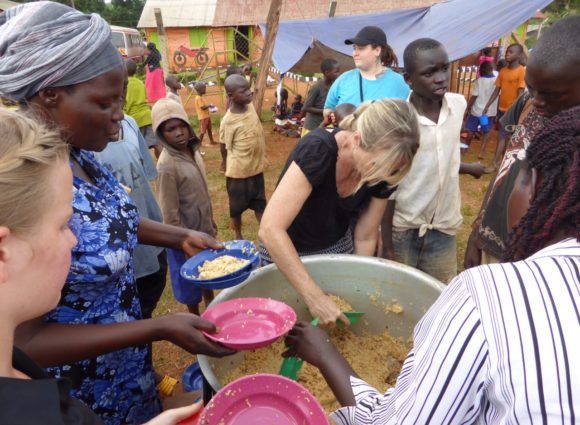 Bouchard Insurance
Bouchard Insurance has been a community partner of Paint Your Heart Out Clearwater for the past 10 years. Team members assisted with improving the quality of life for disadvantaged homeowners by volunteering to paint houses. Bouchard is also a team sponsor of the Gramatica Family Foundation, supporting its mission to provide energy efficient housing initiatives and development assistance to disabled military veterans. One employee makes an annual mission trip to Africa to work with children in orphanages. Team members rally around this employee through various fundraisers and donations.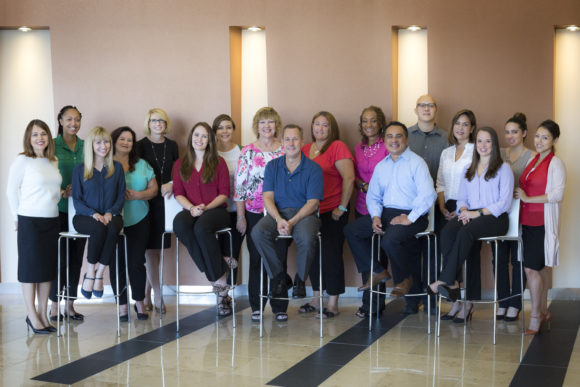 Bolton & Co.
Bolton & Co. launched its own philanthropic arm in 2014 called The Bolton Foundation, a nonprofit that operates as a component fund of the Pasadena Community Foundation. Employees help support the foundation through internal fundraising campaigns and events, and they are encouraged to donate and volunteer their time toward causes they are passionate about. Employees are allotted paid volunteer hours. This year, the foundation launched its IMPACT Committee, which was developed to facilitate even more opportunities to volunteer and suggest future beneficiaries.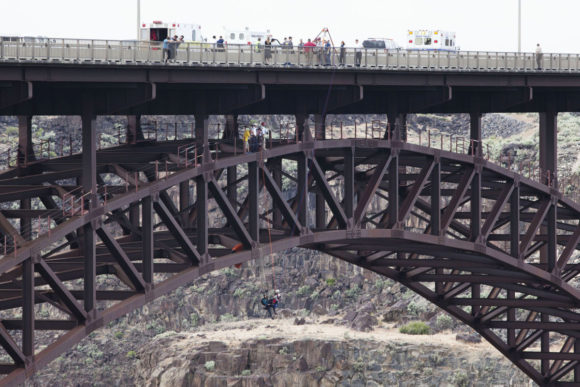 Starley-Leavitt Insurance Agency
Allen Starley with Starley-Leavitt Insurance Agency in Twin Falls, Idaho, is heavily involved with the Bonneville County Sheriff's Search & Rescue unit. He is part of the dive and repel teams and is involved with rescue or recovery about 16 times per year. Twin Falls is a beautiful area with the Snake River providing many recreational activities that unfortunately result in many accidents, requiring both rescue and recovery.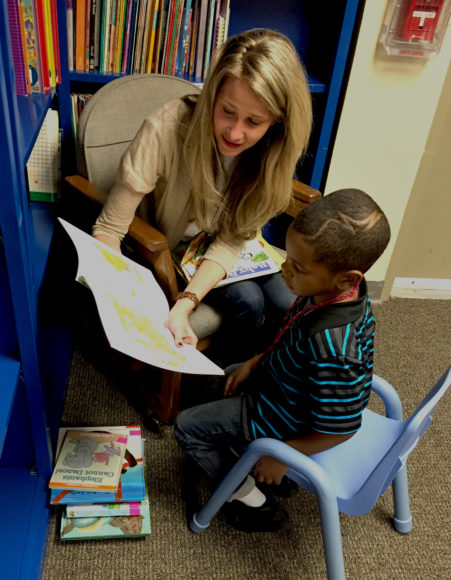 Alper Services
Alper Services marks its 50th year in business in 2016 with a challenge to its more than 50 employees — each person was asked to volunteer their time or donate money, food, etc., to their charity of choice. The goal was to see every team member complete at least one act so there were 50 acts — or more — that could be demonstrated. The Team took the 50 Acts of Charity Challenge seriously with more than 90 acts of service and kindness reported.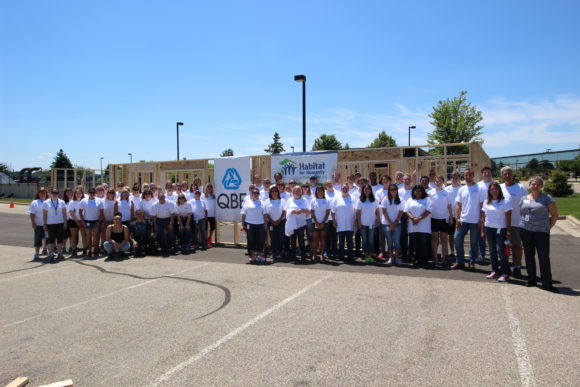 QBE North America
QBE North America invests in the communities where it does business and where employees live and work. QBE invested in the community through a number of initiatives in 2016. In June, QBE employees located in the Sun Prairie, Wis., office participated in a panel build for Habitat for Humanity of Dane County to provide affordable housing for a local family. QBE volunteers built all interior and exterior wall panels. Once construction was complete, Habitat for Humanity representatives transported the panels to the build site on Sweet Grass Drive in Sun Prairie.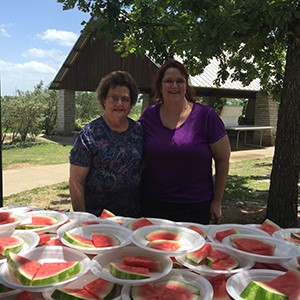 Bryan Insurance Agency
Bryan Insurance Agency in 2012 started Bryan Cares. Each employee is given up to one paid day off per quarter to participate in volunteer work. Employees are encouraged to team up on projects when possible. This program has been very successful. BIA Account Manager Ashley Gibson and Receptionist Charlotte Buckmaster spent a day delivering meals. Operations Manager Sonya Edwards and Account Manager Ann Ratcliff volunteered at a camp that provides children with physical disabilities, diabetes and cancer with a camping experience.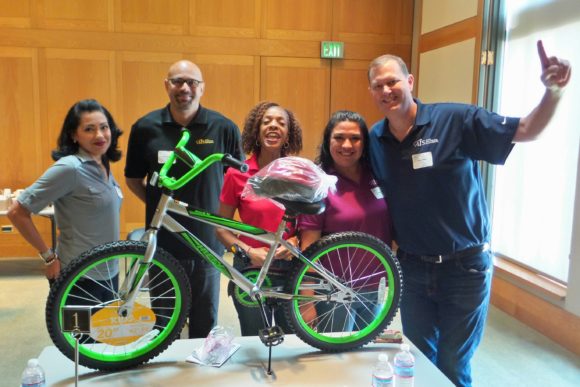 Auto Insurance Specialists
Auto Insurance Specialists and its employees participated in several charitable events. This year, AIS fielded a team for MuckFest MS Los Angeles 2016. With a company match, the team of 50 employees and friends raised over $9,000 to support the work of the National Multiple Sclerosis Society. Working with Stop Hunger Now, AIS employees and their families packed food boxes for people in developing nations. In support of U.S. Troops, AIS employees collected items and filled care packages for deployed members of the U.S. Armed Forces.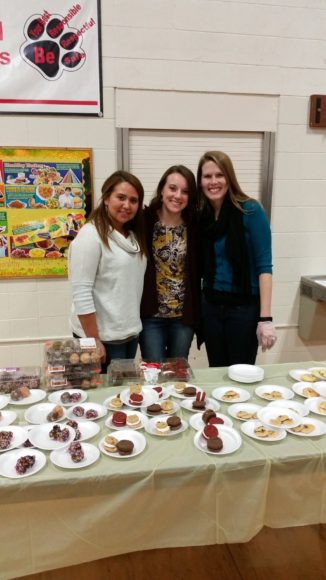 Gibson
At Gibson, GIVE is a program designed to improve and assist colleagues, clients and communities. Katie Tryniecki, marketing specialist, has a passion for serving the community and working with nonprofits: from coordinating event sponsorships and volunteer opportunities to planning fundraising events. She planned an annual holiday party hosted for kids at a local Boys & Girls Club, orchestrated a food drive that collected over 57,000 pounds of food, and helped raise more than $111,000 in the Great Big Kid campaign for the Boys & Girls Clubs of St. Joseph Country.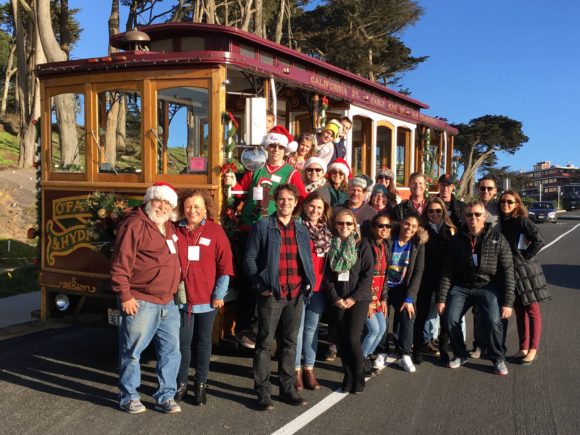 Woodruff-Sawyer & Co.
Woodruff-Sawyer supports the community through its CARE program. The CARE group, which stands for Community, Action, Responsibility, Enhancement, collaborates with local non-profit organizations to help improve lives. It is entirely employee-based. Employees get to nominate charities they would like to support and build events or volunteer opportunities around them. This year, events included: Institute on Aging Christmas Caroling at senior centers (pictured), Corporate Challenge race to support YearUp, San Francisco Food Bank volunteer day, Gift drive for Raphael House , Bake Sale for Bill Wilson Center, Volunteer Day at Boys and Girls Club, and much more.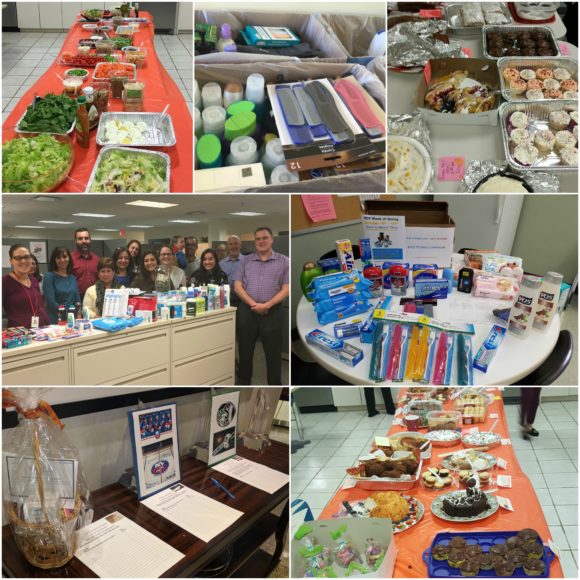 HUB Northeast
The 2016 Insurance Industry Charitable Foundation "Week of Giving" took place Oct. 8-15. HUB International Northeast has participated in this event annually since 2010. For the second straigth year, HUB Northeast chose Volunteers of America as their charity of choice. HUB Northeast hosted a drive to collect items needed by residents in VOA's shelters/facilities, such as soap, shampoo, toothbrushes, deodorant, diapers, socks and moisturizer. Week-long efforts included bake sales, Chinese auctions, raffle sales, $5 jeans day and other original fundraising ideas.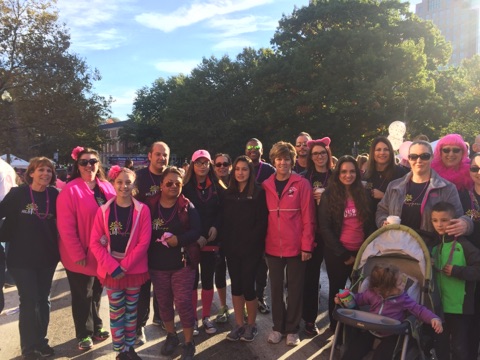 The Hilb Group
Over the years, the Hilb Group has been proud to support many local non-profits and charitable organizations through both employee-driven efforts and organized events. This year, Hilb Group agencies have been considerably dedicated to contributing their time. After the devastating flood in West Virginia, the Hilb Group of West Virginia's employees raised funds, matched by the corporate office, for United Way. The money raised was used to buy school supplies for the children that were affected by the floods. In October, locations in New England organized a team for the Strides Against Breast Cancer walk, and with matching company funds were able to make a $10,000 donation to the American Cancer Society.
Was this article valuable?
Here are more articles you may enjoy.
From This Issue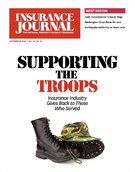 The Charity Issue; Photos of Your Organization Involved in Charity Work; Insurance Heroes