Employers find it difficult to hear that the entire kit and kaboodle of recruiting boils down to money. Insurance agencies would like to think there's more to the story — work/life balance, career development or great culture. While all these factors are important to job seekers, the truth is if you offered the exact opposite work environment but awesome money you can still hire experienced talent. I know this because I've seen agencies with horrible reputations (hint …everything is on Glassdoor) that pay 30% more than the market and still manage to bring on new hires.
Questions like the two I received this past week are proof that compensation is the biggest recruiting factor in today's insurance job market. I don't think it's an accident that I received these two calls within a day of one another. It's worth noting that the same subject is on the minds of companies and candidates.
Q: I've seen your name in Insurance Journal and its often tied to compensation data. I'm doing an internal compensation benchmarking exercise. Do you have industry data on agency positions?
-Samantha in Human Resources
Q: Do you see a lot of agencies paying higher commissions to men? I recently discovered that in our agency validated female producers earn 20% less than validated male producers.
– Kelly in Sales
Here's how to make compensation a focal point of your recruiting strategy.
The Rule of 10
The more things change the more they stay the same. In April 2016 I wrote a piece for Insurance Journal titled "What Should I Pay My Client Service Employees?" where I outlined The Rule of 10. "Client managers seek out a fair, competitive increase. Most service professionals want a 10% or $10,000 increase." After four years this rule still holds true. It will take $62,000 to recruit a CSR who currently makes $55,000. You have to offer $85,000 to recruit an account manager with a current salary of $75,000. Lateral moves and marginal raises don't work to attract talent. Small merit increases of 3-5% won't retain employees either.
Compensation Includes Remote Employment as a Priority
LinkedIn's Emerging Jobs Report for 2020 backs up a statement I said all last year. U.S. workers want remote jobs. LinkedIn's report indicates, "Remote work becomes mainstream. Previously considered a 'perk,' remote work is quickly becoming a priority for many. More than 40% of millennials say flexibility to work from anywhere is a priority when evaluating job opportunities." Does your company want to attract the next generation of young talent? Start offering and monetizing remote employment and this will become your top recruiting tool.
Pay Equity. End of Story.
Can you empathize with Kelly, the producer who asked me about pay disparity occurring in her agency? Such an overt situation will lead her to look for a new employer. Now imagine any other person's feelings and suspicions about not being paid fairly.
When you embrace compensation as a recruiting tool, you bring issues to light that are meaningful to prospective job seekers. Huffington Post cited a study by New America that showed the gender pay gap also pops up in parental leave. "According to the survey, 71% of fathers who took leave to care for a child or family member reported that the time off was at least partially paid by their employer. 57% said the leave was fully paid. Meanwhile, only 52% of mothers said their caregiving leave was even partially paid. Just 33% took fully paid leave."
Food for Thought
Pay Transparency — Another Reason to Put Money Front and Center
Start sharing salary ranges in your job advertisements. LinkedIn surveyed over 5,000 talent professionals in its Global Talent Trends 2019 report. Employers and candidates cited the following benefits of pay transparency:
Streamlines negotiation;
Ensures fair pay;
Filters out those who'd decline;
Allows interviews to focus on other things.
Topics Talent Training Development
Was this article valuable?
Here are more articles you may enjoy.
From This Issue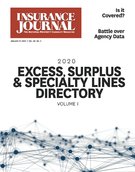 Excess, Surplus & Specialty Markets Directory, Volume I