Stock Prices: Overall, brokers' stocks have performed well year-to-date, up 8 percent. A strong contributor to the stock price increase is the merger and acquisition premium related to the high prices private equity firms recently paid for Hub International Ltd. (NYSE:HBG) and USI Holding Corp. Aon Corp. (NYSE:AOC) stock is up 22.4 percent YTD. In May, the company reported solid first quarter 2007 results. Net income increased 8 percent to $213 million compared to $198 million for the prior year quarter. Total revenue increased 10 percent to $2.4 billion. Organic revenue contributed 5 percent to the revenue increase. Willis Group Holdings Ltd. (NYSE:WSH) is also having an impressive year so far with a 17.4 percent increase in stock price through May 31, 2007. Net income for the quarter ended March 31, 2007 was $169 million compared to $140 million for the same quarter a year ago. This was an increase of 21 percent. Willis reported an organic growth rate of 6 percent in the first quarter of 2007.
M&A Activity: Even though the lowest level of merger and acquisition activity in the sector this year occurred in April, with only 11 announced transactions, a variety of acquirers are still active. In two separate transactions, program managers/managing general underwriters were acquired by carriers adding to their distribution platforms. Meadowbrook Insurance Group Inc. (NYSE:MIG) announced it entered into a definitive agreement to acquire U.S. Specialty Underwriters for $23 million. The purchase price is comprised of $13 million in cash and $10 million in Meadowbrook stock. Based in Cleveland, Ohio, USSU is a specialty program manager that produces fee based income by underwriting excess workers' compensation coverage for a select group of insurance companies. USSU focuses on self-insured companies within the health care industry and public schools in 29 states. Also, Risk Specialists Cos. Inc., a member company of American International Group Inc. (NYSE:AIG), announced the acquisition of substantially all of the assets of Guild Underwriters Napa Inc. and its affiliated companies, doing business as SRO Napa. SRO Napa is a California-based managing general underwriter that produces and underwrites excess casualty and other specialty casualty insurance products.
Activity remained steady in May with 12 more acquisitions announced. Middle market brokers were especially acquisitive during the month. Arthur J. Gallagher & Co. (NYSE:AJG) and Hilb Rogal & Hobbs Co. (NYSE:HRH) both announced two acquisitions in May. In the largest acquisition for the two month period, THI Holdings Inc., a Nationwide Mutual Insurance Co., through one of its agency subsidiaries, acquired the assets of Anaheim Hills, Calif.-based Eastwood Insurance Services Inc. for $217 million. Eastwood Insurance operates 47 multi-line agencies in California, Texas, Florida, Arizona, and Nevada, and approximately 420 employees, that specialize in specialty auto sales (non-standard auto). The company also offers homeowner, motorcycle, RV, and commercial coverage.
Capital Raising: USI Holdings Corp. announced it will offer and issue $225 million aggregate principal amount of senior notes due 2014 and $200 million aggregate principal amount of senior subordinated notes due 2015. The net proceeds from the offering of the notes, together with other financing, are expected to be used to finance the merger and related transactions.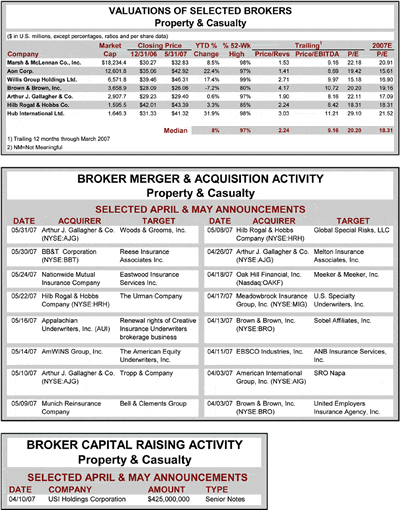 LMC Capital LLC is a national investment banking firm focused exclusively on the insurance industry. Services include highly qualified, industry-specific advisory relating to mergers & acquisitions, capital raises and valuations. The firm can be contacted at 704-943-2600, by e-mail at Info@LMCCapital.com or visit the firm's Web site at www.LMCCapital.com.
Was this article valuable?
Here are more articles you may enjoy.
From This Issue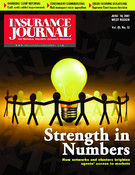 Workers' Compensation Directory; Agency Options: Networks, Financing, Planning; Corporate Profiles