Q:I'm keenly aware of the talent shortage in our area. As vice president of benefit operations, our agency not only wants to hire more account managers but is battling against the constant solicitation of those employees by our competitors. An area I'm most concerned about is rising salary levels. How can I retain an employee with three to five years who receives an $85,000 to $90,000 offer? I've seen this firsthand in the Twin Cities. That's crazy to me given our internal equity, so I'm looking for ideas on how to protect the account managers on my staff. Your thoughts? – Diane in the Twin Cities
A: Act Don't React. My answer is as simple as that. Recruiting is an ongoing effort to attract and retain talent. Most agencies develop a one-sided plan to "find people." The problem is you'll never be caught up, and in the end, your firm will spend a lot of money because it let as many people or more out the backdoor as you brought in the front. The best way to examine the root cause is through the lens of the candidate's motivation. Below are three true stories of account managers, in their own words, who contacted me for help finding a new job.
Why Account Managers Leave One Agency for Another
Account Manager: Frustrated and Overworked
"I work 15-hour days and my boss could care less. For example, yesterday I started work at 7:30 a.m. and left the office at 5 p.m. By 7:15 p.m., I was logged back in remotely and finished up a little after midnight. I'm back in this morning at 7:30 a.m. and expect today to be more of the same. In fact, this is how my schedule has been for months. I've gone to my boss to express my concerns. His response was that I needed to give serious thought to whether I was cut out for this agency."
Learning Lessons: 1) Yes, managers really say this stuff to their employees. 2) Her impression is that the boss is a cold, unempathetic jerk. 3) She took his advice, gave it some thought and wants to start a job search.
Account Manager: A Victim of Their Own Success
"I've been an account manager at my agency for three years. Previously, I was an assistant AM for nine years, so I joined my current firm because they sold me on advancement opportunities. I'm the sole contact for their entire SBU block of business. I love the company and who I work with but want to handle a fewer number of clients that are more complex and challenging. When I spoke with my supervisor, she said I'm so valuable in my current role she cannot afford to move me to another position."
Learning Lessons: 1) Employees voice concerns. Will you really listen? 2) This response is about what's best for the agency, not the employee. 3) If you can't offer a solution, another agency gladly will.
Account Manager: Gender Bias (Producer vs. Account Manager)
"I recently returned from maternity leave and feel like my producer is punishing me for my absence. We've had a great one-on-one relationship for years. Then I was gone for 12-weeks, and he was forced to get involved in servicing clients. Now that I'm back, he has zero awareness or consideration for how his comments come across. In the end, he's a 55-year-old bachelor with no children. I don't think he intends to be hurtful, but I cannot change his DNA or lack of perception."
Learning Lessons: 1) Gender bias between producers (male dominated) and account managers (mostly female) is real. 2) Producers can be the worst managers. 3) Another agency will win her heart using sensitivity and flexibility, not money.
Food For Thought
Reaction and passivity are the hallmarks of an incomplete recruiting philosophy. Nowhere is this more evident for insurance agencies than service hires. Over the last five years, account managers and account executives have accounted for 60 percent of Capstone's job placements, a direct reflection on agency hiring needs. Nothing suggests 2019's trends will be any different. What is your plan to act rather than react next year?
Topics Talent
Was this article valuable?
Here are more articles you may enjoy.
From This Issue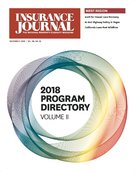 The Sharing Economy; Directory: Programs, Volume II