My New Markets is brought to you by Insurance Journal's sister website: www.mynewmarkets.com
Need a Market? Find it. FAST.
---
Hotel/Motel Program
Market Detail: Specialty Insurance Agency has expanded its hotel/motel program to California. Program targets risks up to seven stories with $15 million property and $1/$2 million liability limits including liquor liability. A special endorsement includes coverages unique to this class.
Available limits: Minimum $25,000, maximum $2 million.
Carrier: QBE.
States: Calif., N.Y., N.J., and Pa.
Contact: Mel Watters at 732-701-8900 or e-mail: bmoffett@specialtyagency.com.
Medi-Spas
Market Detail: Arlington/Roe & Co. offers coverage for medi-spa facilities specializing in laser hair removal, botox and microderm abrasion. Call to inquire on specific state information.
Available limits: Minimum $1 million, maximum $3 million.
Carrier: Various, admitted and non-admitted available.
States: Ill., Ind., Ky., Minn., Ohio and Tenn.
Contact: Jim Eades at 800-878-9891, ext. 8626 or e-mail: jreades@arlingtonroe.com.
Security Guards
Market Detail: The Mechanic Group Inc. has commercial liability available for security guards, private investigators and alarm installers/monitoring.
Available limits: Minimum $1 million, $10 million max.
Carrier: Gemini Insurance Co.
States: All.
Contact: Marc Katz at 800-214-0207 or e-mail: mkatz@mechanicgroup.com.
General Liability
Market Detail: Brazos Specialty Risk Inc. provides a general liability product featuring many class codes.
Available limits: Minimum $1 million, maximum $2 million.
Carrier: Unable to disclose, not-admitted.
States: All except Alaska, D.C., Del., Hawaii and N.Y.
Contact: Charlie Garnham at 214-382-2454 or e-mail: cgarnham@brazosrisk.com.
Was this article valuable?
Here are more articles you may enjoy.
From This Issue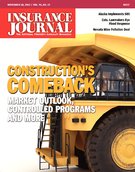 Top Personal Lines Retail Agencies; Assisted Living / Long Term Care; Contractors & Builders; Regional Wall Calendar – Sponsor a Month