My New Markets is brought to you by Insurance Journal's sister website: www.mynewmarkets.com
Need a Market? Find it. FAST.
---
Vacant Property
Market Detail: American Modern Insurance Group offers a special policy for those properties with vacancy of up to a year with named peril protection that covers those causes of loss listed by name in your policy documents (fire, lighting, wind, hail, explosion, and others). It covers the essentials, but not everything. Actual cash value loss settlement for a total or partial loss, American Modern settles at the actual cash value (ACV) of the loss, which takes depreciation into account when settling the claim. Three, six, and 12-month policy terms available. Eligible home types include: home should be in fair or better condition, showing proper maintenance; up to four-family construction, with no age restriction; valued up to $500,000 (most states less than $1 million in a few); renovations in process are accepted without surcharge. Shorter vacancies can be handled with an endorsement.
Available limits: As needed
Carrier: Unable to disclose, admitted and non-admitted available
States: All states
Contact: Customer service at 800-759-9008
Condominiums
Market Detail: Kevin Davis Insurance Services, Inc. offers D&O liability, crime, umbrella and E&O. The team at Kevin Davis Insurance Services (KDIS) has been a wholesale broker of risk products for the community association industry for over 25 years. KDIS has developed several products designed specifically for community associations and management companies like condo associations, homeowners associations & property managers.
Available limits: As needed
Carrier: Unable to disclose
States: All states
Contact: Sherry Branson at 213-833-6190 or e-mail: sbranson@kdins.com
Franchised, Limited-Service Hotels
Market Detail: The McGowan Companies offer general liability; auto liability (non-owned & hired), liquor liability, crime, employee benefits, and property (max TIV $15 million).
Available limits: As needed
Carrier: Unable to disclose, non-admitted
States: All states
Contact: Suzanne Young at 800-545-1538 or syoung@mcgowancompanies.com
Pizza Pro Delivery Program
Market Detail: AmWINS Group Inc. offers a program for producers who control pizza delivery businesses want to place their client's coverage with an A-rated admitted carrier. Coverages include: hired and non-owned auto liability coverage, auto physical damage, business owner's policy form for property and GL coverages, workers' compensation, employment practices liability coverage and umbrella coverage. Qualified prospect considerations: insured should have established mvr; insurance monitoring and training procedures in place; and insured should have minimum of three year's restaurant experience. Requirements: BOP and auto coverages are mandatory, loss information for lines to be quoted (three complete years).
Available limits: As needed
Carrier: Unable to disclose, admitted
States: All states
Contact: Keith George at 717-214-7603 or e-mail: keith.george@amwins.com
Drone Manufacturer Product Liability Insurance
Market Detail: Unmanned Risk Management maintains a large and active comprehensive general liability and products liability account book including some of the world's largest UAV and UAS manufacturers, dealers and distributors. Products liability may be broadly split into UAS manufacturers 'products, UAS sales and UAS repair & service. Manufacturer, sales and repair & service commercial general liability insurance covers manufacturers' of UAS, UAS components, sellers of those UAS and components and repair & service facilities that maintain those UAS and their components, for liability arising from a UAS accident. An additional coverage available is "grounding" liability.
Available limits: Minimum $1 million, maximum $100 million
Carrier: Allianz
States: All states
Contact: Terry Miller at 720-208-0844 or e-mail: uav@transportrisk.com
Was this article valuable?
Here are more articles you may enjoy.
From This Issue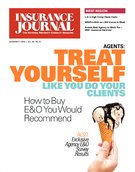 Focus on Professional Liability / PLUS; Habitational / Dwellings; Agents' E&O Survey