Builders Risk
Market Detail: Wholesale Broker LevelFirst offers extensive market capabilities with comprehensive coverage for residential and commercial builders risk. Coverage features include: new construction, renovations, and additions; broad definition of covered property; monthly and annual reporting policies available; appetite for commercial and residential renovations; temporary storage and transit sub-limits included and can be increased upon request; options to include soft cost, equipment breakdown and shell coverage for renovations; manuscript coverage available for larger projects; no coinsurance option available; builder's risk capacity to $50 million.
Available limits: Maximum $100 million
Carrier: Unable to disclose, admitted and non-admitted available
States: Ala., Ariz., Ark., Calif., Colo., Ga., Kan., La., Miss., Mo., Neb., N.J., N.M., Ohio, Okla., Ore., Pa., Texas and Wash.
Contact: April Moeser at 800-355-4428 or email: amoes@iiat.org Agribusiness
Market Detail: Midlands Management Corp. offers property coverage for buildings, personal property, computers, mobile equipment, stock and business income. The property form also includes many optional coverages. Other coverages include: equipment breakdown; general liability for premises/operations and products liability; commercial auto; workers compensation; commercial umbrella; and employment practices liability insurance. Bloodstock mortality, livestock mortality and animal mortality coverage also available. Loss control services: While no one can control Mother Nature, the insurance carrier will advise the insured on ways to protect their employees and business, reduce property damage, control costs and minimize business interruption. Specialists will partner with the insured to create a customized loss control program to help improve safety and increase profitability. In the event of a loss, claims staff will work with the insured to swiftly facilitate that covered property is restored or replaced; business operations resume with little delay and loss of income; the injured receives expedient care and attention and third party claims are aggressively defended and fairly resolved.
Available limits: As needed
Carrier: Unable to disclose
States: All states except Okla.
Contact: Mandee Wilson at mwilson@midman.com
Medical & Physical Rehab Facilities
Market Detail: Argo Pro's allied medical targets risks in long-term care facilities, miscellaneous healthcare facilities and social service industries including assisted living facilities, home healthcare, nursing homes, non-emergency medical transportation, group homes for the mentally or physically impaired, social service agencies, adoption and foster placement agencies, medical imaging centers, counseling centers and independent living. Professional and general liability coverages are offered as well as physical/sexual abuse, hired and non-owned auto, stop gap liability, employee benefits and excess liability.
Available limits: As needed
Carrier: Argo
States: All states but D.C., and W.Va.
Contact: Customer service at 804-560-4844
Franchised Motorcycle and Powersports Dealerships
Market Detail: Williams & Stazzone Insurance offers a specialty garage liability program for franchised dealership operations that sell and service motorcycles and power sports. The program includes: garage liability package policy; dealers physical damage (inventory); property, crime, and inland marine; dealer E&O's; umbrella; discrimination; and pollution. Additional details: Nationwide availability (lower 48); stable insurance program backed by a well-rated carrier; comprehensive form and competitive pricing. Ideal agency partners will have an existing focus on garage liability or have staff with prior experience producing profitable business.
Available limits: As needed
Carrier: Unable to disclose, admitted
States: All states
Contact: Vincent Stazzone at 800-868-1235 or email vstazzone@wsins.com
Was this article valuable?
Here are more articles you may enjoy.
From This Issue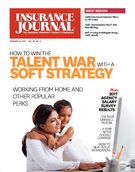 Agency Salary Survey Results; On the Water: Marinas & Boats; Agribusiness / Farm & Ranch