Insurance Broker / Large Retail Agent Errors & Omissions
Market Detail: Rockwood Brokerage (www.rockwoodbrokerage.com) serves as the exclusive national administrator of an errors & omissions (E&O) product designed to address the unique professional liability exposures faced by insurance agents and brokers generating gross written premiums of $2 million or more. Program highlights include: broad definition of professional services; includes notary, premium financing, and risk management/loss control activities; B+/government guaranteed insolvency exclusion; automatic coverage for independent contractors; punitive damages covered where allowable by law. Additional coverages included and outside of the policy limit. Wholesaler, MGA, and program administrators considered.
Available limits: Minimum $1 million, maximum $5 million
Carrier: Western World Insurance Group
States: All states
Contact: Mark Lann at 786-404-4444 or e-mail: mark.lann@rockwoodinsurance.com
Auto – Mexico
Market Detail: American Border Insurance Services, Inc.'s (www.abis-group.com) cruceSeguro coverage offers auto liability coverage for Mexican registered vehicles crossing the border into the USA. Policy includes roadside assistance.
Available limits: Minimum $15,000, maximum $300,000
Carrier: CHARTIS Seguros Mexico
States: Ariz., Calif., N.M., and Texas
Contact: Customer service at 800-554-2247
Difference in Conditions (DIC)
Market Detail: Southwest Risk, LP (www.swrisk.com) can provide various coverages including ground-up flood, excess flood, Cal quake, New Madrid quake, stand alone wind/hail/hurricane or even stand alone excess debris removal. DIC placements in critical or non-critical zones are like a jigsaw puzzle and rarely will any one carrier provide a large limit ground up. Southwest Risk can help piece that puzzle together and provide the terms the insured needs.
Available limits: As needed
Carrier: Unable to disclose
States: All states
Contact: Customer service at 214-206-4900
Medi-Spas
Market Detail: Arlington/Roe & Co. (www.arlingtonroe.com) offers coverage for medi-spa facilities specializing in laser hair removal, botox and microderm abrasion. Call to inquire on specific state information.
Available limits: Minimum $1 million, maximum $3 million
Carrier: Unable to disclose, non-admitted
States: Ill., Ind., Ky., Mich., Ohio, and Tenn.
Contact: Jim Eades at 800-878-9891, ext. 8626 or e-mail: jreades@arlingtonroe.com
A&M Commercial Contractors Market
Market Detail: Anderson & Murison, Inc. (www.andersonmurison.com) offers coverage for most commercial contractors including apartments, artisan contractors, contractors equipment rental, roofing, sprinkler/fire protection systems, and structural steel. Many more classes listed online. In-house binding authority and highly competitive markets available.
Available limits: Minimum $1 million, maximum $2 million
Carrier: Various, non-admitted
States: All states except Alaska and Fla.
Contact: Commercial Underwriting at 800-234-6977, ext. 220 or e-mail: commercial@amqts.com
Short Haul Trucking
Market Detail: Insurance Marketing Corporation of Oregon (IMCO) (www.imcoinsurance.com) has binding and quoting authority with a number of "A+ Rated" admitted and non-admitted carriers, including Lloyd's. All policies and e ndorsements are issued in-house, including cancellations and reinstatements. All claims are reported direct to the office and then assigned to either company or independent adjusters for service. Wholesale insurance products include: motor truck cargo up to $1 million; physical damage; commercial auto liability; general liability; business auto; non-trucking liability; and miscellaneous equipment.
Available limits: As needed
Carrier: Unable to disclose
States: Calif., Ore., and Wash.
Contact: Customer service at 800-944-3128
Was this article valuable?
Here are more articles you may enjoy.
From This Issue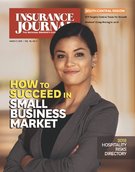 How to Succeed in Small Business Market; Directory: Hospitality Risks; Markets: Homeowners & Auto, Business Interruption