Ken Nigohosian
The American Agents Alliance Board of Governors announced the selection of Ken Nigohosian as the association's new executive director. He has worked for Safeco Insurance for 25 years. He began his career as Safeco's personal lines manager in Los Angeles and most recently served as Safeco regional manager – personal lines for California and Nevada. In addition to his experience on the company side, Nigohosian was a member of the Personal Insurance Federation and also served on the California FAIR Plan governing committee and the California Department of Insurance's task force on development in underserved communities. He was also a liaison for Safeco's regulatory and legislative efforts in California, as well as the company's representative to the California Organized Investment Network.

Robert Sanders
Irvine, Calif.-based SullivanCurtisMonroe Insurance Brokerage has appointed Robert W. Sanders as vice president, announced President John Monroe. Sanders specializes in commercial insurance and has 20 years of experience in the insurance industry. He was previously employed by Calco in Orange, Calif. Prior to that, he spent five years at Westinghouse in Torrance, Calif.

Marc Paletta
Heffernan Insurance Brokers announced the appointment of Marc Paletta as a producer in its Walnut Creek, Calif. office. He will focus on employee benefits business development for mid-sized businesses in and around the Bay Area. For the past two years, Paletta worked as the regional sales manager in Northern California for California Choice. Prior to that, Paletta began his career in underwriting for a group benefits purchasing company called BenefitsAlliance, based in Walnut Creek, Calif.

Art Seifert
Art Seifert joined Wilimington, Del.-based Target Markets Program Administrators Association as president. He is founder, president and CEO of Ananadale, Va.-based The Lighthouse Companies, and one of the original members of the Target Markets organization. Seifert assumes the presidency from Glenn Clark, owner and president of Rockwood Programs, also one of the founders of the organization who has served as president since its founding four years ago.

Craig Mense
Chicago-based commercial insurer CNA Financial Corp. appointed Craig Mense as CFO. Mense will be responsible for CNA's corporate finance department, which provides asset and capital management, investor relations, corporate accounting, financial reporting, corporate tax, financial regulation, and internal audit services to the organization. Mense comes to CNA from St. Paul Travelers, where he served most recently as president and CEO of its global run-off operations. In that capacity, he was responsible for all discontinued businesses, including Gulf Insurance Group, Domestic Assumed Reinsurance and International Reinsurance. He was also chief operating officer of the Gulf Insurance Group, with oversight of all company operations.
New York-based Willis Group Holdings has appointed Arlene Corsetti as executive vice president, regional executive officer to lead the Western Region encompassing Alaska, Arizona, California, Hawaii, Nevada, Oregon and Washington. She also assumes the role of Willis' healthcare practice leader in North America. Corsetti will be based in San Francisco. Corsetti joins from Marsh where she has worked for 21 years, most recently as a managing director and regional manager overseeing its Midwest operations, which included 17 offices across Michigan, Illinois, Iowa, Indiana, Minnesota, Kansas, Nebraska, Ohio, Kentucky, and parts of Pennsylvania. She has also served on Marsh's internal board of directors. Prior to taking responsibility for the entire Midwest Region, Corsetti ran Marsh's Chicago office. Before moving to Chicago, she held management positions for Marsh in its Seattle and San Francisco offices.
San Francisco-based ECM Insurance Services announced the appointment of Richard Cho as assistant vice president in its Los Angeles office. Cho will focus on business development in the Western United States up to Alaska. He will work in Los Angeles for approximately one year, then will relocate to ECM's San Francisco office. Cho joins ECM from Worldwide Facilities Inc., where he served as a casualty and financial services broker. Prior to that, he was with Swett & Crawford in Los Angeles where he was an associate broker in financial services.
Dallas-based Cunningham Lindsey U.S. Inc. announced that James C. Rich was named assistant vice president and national account executive for its Western Region. Rich, with more than 20 years of claims experience, has held positions in the independent adjusting industry. He joins the company in its Denver office.
The American Insurance Association announced that Steven Suchil has been appointed assistant vice president in the association's western region, based in Sacramento. Suchil will manage AIA's advocacy efforts on commercial and legal issues in California and assist in the management of AIA's state governmental affairs operations in Alaska, Arizona, Hawaii, Idaho, Montana, Nevada, Oregon, Utah and Washington. Prior to joining AIA, he served as principal consultant to California State Sen. Deborah Ortiz where he managed insurance, business and labor legislative matters. He served for five years at the California Department of Insurance, where he was the counsel for the Compliance Bureau and managed the CDI's legislative and regulatory issues as the deputy commissioner for policy, research and special projects. Suchil also served as counsel and legislative liaison for the California Department of Banking and as committee consultant for the Assembly Insurance Committee and the Assembly Finance and Insurance Committee.
Restaurant Insurance Corp., a Greenwood Village, Colo. specialty insurer, announced that Melissa Williams has joined the firm as a field underwriter. She has nearly 14 years of experience and will help RIC expand its services to clients and agents in the western United States.Prior to joining Restaurant Insurance Corp., Williams was an underwriter for Freberg Environmental Insurance, a division of HRH Hobbs.She had previously served as operations manager for both American Home Insurance and CoWest Insurance Group in the Denver area.
Was this article valuable?
Here are more articles you may enjoy.
From This Issue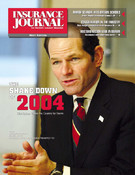 2005 A Look Ahead