Mark Edwards
During the Agency Peak Performance EXchange fall 2004national symposium, Tim and Mary Starrof the Greenfield, Wis.-based Starr Group accepted the Fall 2004 New Producer of the Year Award for Mark Edwards. Producer of the Year awards are based on the new business generated by each producer. Expectations for each producer within an agency are established using industry standards reflective of average account size and line of business. The Starr Group was competing against about 90 other agencies across the United States.
The agency consulting firm of Marsh, Berry & Co. Inc. formed APPEX and the Bank Agency NetworK (BANK), organizations dedicated to helping independent insurance agencies and bank-owned insurance agencies respectively, reach their highest business potential.

Michael Morris
Michael Morris, chairman, president and CEO of American Electric Power Co. Inc., was elected to the board of the Hartford Financial Services Group Inc.
A distinguished leader in the energy industry for over three decades, Morris started with American Electric Power at the beginning of this year. Morris' arrival at AEP followed seven years as CEO of Hartford-based Northeast Utilities System, leading the company through the acquisition of the Connecticut Valley Electric Co., the merger with Yankee Energy System Inc. and, in 2001, the $1.3 billion sale of the Millstone Station nuclear plant.
Prior to Northeast Utilities, Morris served as president and CEO of Consumers Energy, the principal subsidiary of CMS Energy, and president of CMS Marketing, Services and Trading. Earlier in his career, Morris held executive posts with subsidiaries of El Paso Energy. He also serves on a number of industry-related boards including the U.S.

Peter Broadbent
Department of Energy's Electricity Advisory Board, the National Governors Association's Task Force on Electricity Infrastructure, and the Connecticut Governor's Council on Economic Competitiveness & Technology.

Sandra Bravo
The Insurance Marketing Communications Association elected Peter Broadbent, chief executive officer of Wahlstrom Group, based in Stamford, Conn., to its board of directors. Broadbent joined Wahlstrom in 1983 and became president in 1998. Following Wahlstrom's merger with Bozell Yellow Pages and Initiative Media Directory Marketing in 2001, Broadbent was named chief operating officer moving to CEO in 2002.

Curtis Page
Willis Group Holdings added Sandra Bravo to the group to lead the private client group in North America. Bravo previously served as senior vice president for Personal Lines Insurance Brokerage, a subsidiary of Chubb Group and joins Willis as executive vice president, North America Private Client Group Leader, bringing 30 years of private client experience. Prior to her tenure with Chubb, Bravo was a managing director at Marsh and held various leadership positions.
Higginbotham & Associates, based in Fort Worth, named seasoned property and casualty insurance broker Curtis W. Page as a vice president in its Austin office. Page joins managing directors Gregory Meserole and Matt Burns, who opened Higginbotham's Austin location in June 2004.
The Annandale, Va.-based Lighthouse Companies named three new program directors. Aaron DiCaprio will head StaffPak, the Lighthouse insurance program endorsed by the National Association of Personnel Services and the recommended insurance program for members of the Employers Services Assurance Corporation.
Rob Rigsby became program director of Eldercare, which offers a range of insurance products designed specifically for those that provide services to the elderly.
Peter Stanislaw is now program director of Lighthouse Professional Liability, which provides brokers access to virtually all types of professional liability, management liability and miscellaneous professional liability.
DiCaprio previously worked as a business consultant for Team America Human Resources, a national professional employment organization in Bethesda, Md. He also practiced employment law and insurance defense litigation in the District of Columbia with Mooers & Associates and O'Riordan Bethel LLP.
Rigsby joins the Lighthouse Companies after serving as CEO of URM Group, a California-based risk management services company specializing in the alternative risk market. He also served as executive director of Association Healthcare Districts and senior examiner with California Casualty.
HCC Insurance Holdings, headquartered in Houston, reorganized the company's executive management team naming Robert Thomas senior vice president, responsible for all surety and credit insurance operations worldwide. Thomas, who is also chief executive officer at the company's domestic surety operations, will relocate from Los Angeles to Houston at the end of the first quarter 2005.
Other corporate executives will have re-defined duties including Edward Ellis, Jr., executive vice president and chief financial officer, now responsible for all financial matters; Michael Schell, executive vice president, responsible for all property and casualty insurance operations; and Craig Kelbel, executive vice president, responsible for all Life, Accident, Health and other Specialty insurance operations. Completing the team are Christopher Martin, executive vice president and general counsel, Pamela Penny, senior vice president of Finance, and Farid Nagji, senior vice president and chief information officer.
Marsh & McLennan Co. Inc. named Scott Gilbert senior vice president and chief compliance officer. He will be responsible for supervising and implementing MMC's compliance policies and programs on a global basis and will report to Michael Cherkasky, president and CEO. Gilbert joins MMC from the General Electric Co. where he was chief compliance counsel.
Was this article valuable?
Here are more articles you may enjoy.
From This Issue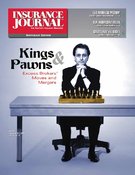 Wholesale Industry M&A Trends