Rex Frazier
The Personal Insurance Federation of California announced that Rex Frazier, former California deputy insurance commissioner for policy and research and chief of the Legislative Bureau, has joined PIFC as vice president and general counsel. While serving at the California Department of Insurance as deputy insurance commissioner from 1994 to 1999, he negotiated CDI's budget before the California Legislature, managed the Statistical Analysis Bureau and the Policy Research Bureau and was responsible for developing CDI positions on legislation. Frazier left the CDI in 1999 to join the Pillsbury Winthrop LLP law firm in Los Angeles, where he provided regulatory advice and legal assistance to insurance companies and producers, banks, money transmitters and finance lenders.

Matt Merkle
Monarch E&S Insurance Services has hired Matt Merkle as assistant vice president and Doris Rojas as an underwriter in its new Simi Valley, California office.

Doris Rojas
Merkle will manage the overall operations of the office and will develop and produce new casualty, property and professional commercial business. Merkle has spent the last 18 years with two other Southern California wholesalers. He most recently served as president for eight years at Excess & Surplus Lines Insurance Brokers. Prior to that, he held a senior management position with another wholesaler.

Robert Restrepo
Rojas also previously worked at Excess & Surplus Lines Insurance Brokers. She began her career in the insurance industry in 1989 and has both retail and wholesale experience.

Gregory Case
The Main Street America Group appointed Robert Restrepo Jr. as senior vice president, insurance operations. Restrepo will oversee the company's commercial lines, personal lines, claims, information technology and staff marketing functions. Most recently, Restrepo was president and CEO of Allmerica Property and Casualty Companies, a subsidiary of Worcester, Mass.-based Allmerica Financial Corporation. While at Allmerica, Restrepo was responsible for day-to-day management. He also led the restructuring of Allmerica's regional property/casualty carriers: Citizens Insurance and Hanover Insurance.
Aon Corporation elected Gregory Case president and CEO, and added him to its board of directors. Case succeeds Patrick Ryan, who has served as Aon's CEO since the company's founding. Ryan will serve as executive chairman of the Aon board of directors. Case most recently served as head of the financial services practice at McKinsey and Co.
Seattle-based Safeco named Jeffrey Roe as the company's new president of distribution, sales and marketing. Roe will lead an organization that includes sales, marketing, research, brand and reputation management. He will be responsible for supporting more than 8,500 independent distributors who sell Safeco insurance products, as well as acquiring new customers and building the company's brand. Roe most recently served as president and CEO of LifeWise Health Plan of Washington and vice president and general manager of Premera Blue Cross, where he led consumer, commercial group and association lines of business. In this role, he was accountable for operating income, membership, strategy and sales. Roe also held positions as vice president of marketing and vice president of communications during his more than eight years at Premera. From 1992 to 1996, he was a senior associate at The Gallatin Group, a Seattle-based public affairs firm. Before that, he worked in the Washington, D.C., office of U.S. Senator Slade Gorton (R-Washington) as a senior legislative assistant and professional staff member covering agriculture, intelligence and environmental issues.
Irvine, Calif.-based The INSCO DICO Group announced that Stephen T. Pate has joined as senior vice president of underwriting. Starting out as a claims representative for Aetna Casualty over 35 years ago, he transitioned into surety underwriting and branch management at Travelers Insurance Company. After Continental Insurance purchased Travelers Surety in 1989, Pate held several leadership positions and became managing officer of Continental's surety operation in 1993. Pate joined Western Surety Company in 1994 as its president and COO. While at Western, he helped plan and execute the merger to form CNA Surety Corp in 1997. In his most recent post as senior vice president with HCC Surety Group, Pate oversaw contract and commercial underwriting and branch operations.

Brown & Riding Insurance Services announced that Ben Hernandez has joined the company as vice president of finance and administration. Hernandez will be based at the company's headquarters in Los Angeles and will be responsible for finance and accounting, information technology, compliance, human resources, and administration. Hernandez has 30 years of experience in the industry. He most recently served as COO of Arthur J. Gallagher & Company's office in Orange County, California. Prior to his time with Gallagher, Hernandez worked as CFO for Newport Beach, Calif.-based J. Gregory Brown & Company. He has also held vice president positions with Pacific Pioneer Insurance Group, Anderson & Anderson Insurance Brokers, and UniCARE Financial Corporation.
Illinois R. B. Jones announced that Morris Nelson and Barry Starbuck have joined its newest office in Denver.
In his new role as director, Nelson will administer the national program of recreational liability and property coverage. He most recently served as president of Colorado Western Insurance Company whose core book of business consisted of general liability coverage for the recreation market. Nelson has more than 30 years of experience in the industry.
Starbuck will serve as head of underwriting responsible for recreation risk underwriting. His previous experience includes serving as vice president – underwriting in charge of underwriting management and product development at Colorado Western. Starbuck also has more than 30 years of experience in the industry.
Was this article valuable?
Here are more articles you may enjoy.
From This Issue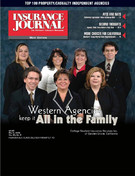 Top 100 Agencies