Charlotte, N.C.-based national wholesale insurance broker AmWINS Group Inc. named James Drinkwater president of its AmWINS Brokerage division. He will be responsible for the management of the division, which is focused on property/casualty insurance brokerage operations.
Prior to being promoted to this role, Drinkwater was the division's chief operating officer, where he worked with retail agency clients and insurance markets, and led the division's sales and marketing strategy.
Drinkwater succeeds Mark Smith, who has been president of the division since April 2005. Smith will continue to work with the company in a consulting capacity.
Additionally, AmWINS hired Donna Hargrove as general counsel.
Prior to joining the company, Hargrove was lead corporate in-house counsel for BB&T Insurance Services Inc. Earlier in her career, she served in private practice with a large regional firm concentrating in mergers and acquisitions and general corporate matters.
Lloyd's appointed LoriAnn Lowery president for North America. She will be responsible for all business operations across the United States and Canada, including business development and distribution, communications and marketing.
Lowery has more than 20 years experience in the insurance industry. She most recently was managing director and national practice leader for risk management and financial products for Wells Fargo Insurance Services. She has previously held positions at Marsh & McLennan, Sedgwick and Intercontinental Brokerage.
Eugenie Shea joined Austin, Texas-based medical liability insurer Medicus Insurance Co. as president and chief operating officer. In addition to her responsibilities as president and COO, Shea will also serve as executive vice president of the parent company, Medicus Insurance Holdings Inc.
Sheldon Davidow has taken on the role of CEO of the insurance company and will move up to CEO of the holding company in August. Davidow is a co-founder of the company along with chairman and CEO Howard Lamb, who is retiring in August 2008.
Shea has nearly 30 years of experience in medical professional liability insurance. Prior to joining the Medicus team, she was the head of Catlin Group Inc.'s medical professional liability underwriting agency in Houston. She also has held senior management positions with Gallagher Healthcare, Advocate, MD Insurance Co., Farmers Insurance Group, NORCAL Mutual Insurance Co. and the Doctors Co.
Christopher J. Boggs was named MyNewMarkets.com associate editor and will spearhead the expansion of the MyNewMarkets.com content. Boggs will produce and edit articles and commentaries focusing on coverage issues, market trends, policy comparisons, risk evaluations and sales approaches. The articles will complement the site's searchable directory of more than 25,000 insurance providers and programs for risks.
Boggs has nearly 18 years of experience in insurance and risk management, including teaching pre-licensing and insurance continuing education courses, and writing on coverage and insurance-related issues. He has been an account executive for several property/casualty agencies and a senior risk analyst for one of the largest risk consulting firms in the Southeast.
MyNewMarkets.com, the Web site with a searchable online directory that brings together agents seeking property/casualty insurance markets with market providers, is published by Wells Publishing, which is also publisher of Insurance Journal publications and ClaimsJournal.com.
Wells Fargo Insurance Services ABD Insurance and Financial Services division named two sales executives to the company's transportation services division in Torrance, Calif.
Michael Fitzpatrick and Scott Fuhrman join the group from Pac Global Insurance Brokerage Inc. and will report to Sam Elliott, managing director of ABD's Torrance office.
Fitzpatrick is an experienced sales trainer and consultant and brings more than eight years of experience in the international marine cargo insurance business. At Pac Global, he was involved in new business development, key account management and contract negotiations.
Fuhrman previously managed company operations at Pac Global, including claims administration, accounts receivables, staff hiring and training, and implementation of online systems and software.
Chatsworth, Calif.-based The Harry W. Gorst Co. hired Megan Wicks as senior transportation underwriter in the Mission Viejo/Orange County, Calif., office.
A recent transplant from the state of Washington, Wicks has 16 years experience from Pacific International Underwriters Inc. in Edmonds, Wash.
Abram Interstate Insurance Services Inc. of Rocklin, Calif., hired Marcy Tabora as auto program manager.
Tabora began her career in the insurance industry 14 years ago at Hosford Insurance Agency, where she gained experience in preferred, standard and nonstandard auto lines. At Abram Interstate's new personal auto department, Tabora will focus on writing preferred and standard auto policies with admitted carriers.
PMI Mortgage Insurance Co., a subsidiary of The PMI Group Inc., appointed Joanne Berkowitz executive vice president for risk management and operations.
Berkowitz will oversee credit risk, portfolio management, and risk-adjusted return objectives for PMI's U.S. mortgage insurance portfolio, as well as underwriting and servicing operations. Berkowitz previously served as chief enterprise risk officer for The PMI Group, which is headquartered in Walnut Creek, Calif.
San Diego-based Arrowhead General Insurance Agency Inc. named Ken Fish chief financial officer, replacing Ronda Sedillo who assumed the chief accounting officer position.
Fish's appointment as CFO is part of Arrowhead's restructuring plan. He has more than 20 years of financial management expertise. Most recently, he served as vice president of corporate development at Allergan Inc., a specialty pharmaceutical, biotechnology and medical device company.
Willis Group Holdings appointed K.J. Wagner to regional partner, and president and CEO of Willis of Arizona Inc.
Wagner's responsibilities will include leading the Arizona and Nevada operations and production team. He has 17 years of experience, including working on designing, marketing and servicing property and casualty insurance programs for national and international clients. Since 1999, Wagner has served as executive vice president for the Arizona operations of Willis Group Holdings.
Bruce Hayden joined online insurer Berkley Net Underwriters in its business development unit. As director of specialty markets, Hayden will lead BerkleyNet's effort to expand its focus on specialty niche opportunities and non-traditional distribution sources.
Hayden joins BerkleyNet with a background in workers' compensation that includes underwriting, marketing, program development and management, claims and operations experience.
Odyssey Re Holdings Corp. named Brian Young CEO-Global Insurance and London Market Operations.
Young presently manages OdysseyRe's London Market division. In his new position, he will be responsible for OdysseyRe's U.S. Insurance and London Market Divisions. He will relocate from London to New York.
The management structure of OdysseyRe's U.S. Insurance Division will remain in place, with Jim Migliorini, CEO of U.S. Insurance, reporting to Young.
Carl Overy will assume local senior management responsibility in London as OdysseyRe's new CEO – London Market Division, reporting to Young.
Overy is currently the chief actuary of the London Market Division, and has been a member of OdysseyRe's management team in London for the past six years.
The London office of Marsh appointed Gordon Springett leader of its Power and Utility Practice for Europe, Middle East and Africa (EMEA).
He takes over from Mark Pollard, who was appointed head of industry, EMEA. Before joining Marsh in 1990 from Sedgwick, Springett was risk and insurance manager of UK Central Electricity Generating Board.
Marsh also appointed Neil Greaves leader of its London-based Forensic Accounting and Claims Services.
Greaves joined Marsh in 2005, and is a chartered loss adjuster with 20 years of experience in the industry. Before joining Marsh, he spent 15 years as a loss adjuster for the insurance market, and four years as a claims consultant for PricewaterhouseCoopers.
Greaves will aid in developing the FACS business portfolio in the United Kingdom.
The London-based reinsurance division of Lockton appointed Julian Wood executive director. He will play a leading role in the creation of a new specialist engineering and construction treaty reinsurance team. He previously worked at GE Frankona Re and with Willis Re.
From This Issue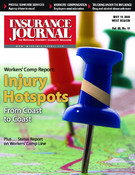 Worker's Comp Report with Directory; Restaurants/ Bars/ Liquor; Inland Marine/ Transportation/ Cargo