AmTrust Financial Services announced leadership changes as it moves forward as a private company. Its $2.95 billion privatization plan was finalized on November 28, 2018 after receipt of all approvals. AmTrust announced retirements of Michael Saxon, executive vice president for U.S. Commercial Lines, and Max Caviet, chief executive officer of AmTrust International Ltd., the company's European parent holding company. Saxon has been with the company since 2001 and Caviet has been with the company since 2003. In addition, Christopher Longo, chief operating officer, has resigned to pursue other opportunities. Longo had been with the company since 2001.
Saxon will be succeeded by Christopher Foy and Caviet by Peter Dewey. Foy will serve as executive vice president and head of North American Commercial P&C. Foy joined AmTrust in 2016 as president of AmTrust Underwriters, with responsibility for the specialty program business segment. Dewey will serve as executive vice president, head of International. Dewey joined AmTrust in 2003, and has served as CEO at AmTrust at Lloyd's since 2014.
FM Global has named Deanna Fidler as senior vice president and chief human resources officer. She is based at corporate offices in Johnston, R.I., and succeeds Enzo Rebula, who retired at year's end after 37 years with FM Global. Before joining FM Global, Fidler served as the chief human resources officer at global asset management firm T. Rowe Price.
The board of American International Group has elected Thomas Motamed, who retired as chairman and chief executive officer of CNA Financial Corp. in 2016, as a director. Motamed has also been appointed to the board's Risk & Capital Committee and the Compensation & Management Resources Committee. Motamed was chairman and CEO of CNA from 2009 to 2016. Prior to CNA, Motamed spent 31 years at The Chubb Corp., where he rose to vice chairman and chief operating officer.
East
Union Mutual has promoted M. Joseph Cook, Schuyler M. Ryan and Matthew Miles. Cook was named vice president of Union Mutual and executive vice president of Community Mutual, a member of the Union Mutual Companies. Ryan was named director of accounting of the Union Mutual and was also elected to serve on the board of directors for Community Mutual. Miles has been named director of subrogation. Miles is based in the company's Montpelier, Vt., office, while Cook and Ryan are based in the company's Troy, N.Y., office. Cook joined the companies in 2018 as the chief marketing and business development officer of New York operations. Previously, he was a regional and national Eastern region vice president for Swiss Re and has also worked for Employers Re and American/Munich Re. Ryan joined Union Mutual as a senior accountant in 2014 and was most recently the companies' accounting manager. She previously worked as a senior accountant at LeverPoint Management and as an associate at PricewaterhouseCoopers. Miles joined the companies in 2015 as a subrogation adjuster.
Acadia Insurance has appointed Tim Morse as regional vice president and branch manager of its New York branch. He succeeds Joe Gresia who has been appointed senior vice president and chief field operations and business development officer at Berkley FinSecure. Morse joined Acadia in 2013 and most recently was assistant vice president of Specialty Marine. Matt McManus has succeeded Morse as assistant vice president of Specialty Marine. McManus joined Acadia in 2007. He was most recently assistant vice president of Loss Control. Prior to that, he was underwriting director for the Maine branch.
Southeast
USG has hired Kim Steinmetz as producer/broker to its branch in Tampa, Fla. Steinmetz joins the USG team with 16 years of experience specializing in large commercial property. She most recently held the position of assistant vice president at AmWins in Jupiter, Fla. In her new position at USG, Steinmetz will work to develop her book of business, as well as USG's large brokerage property division.
InsuranceHub has doubled the size of its Lawrenceville, Ga.-based commercial transportation division with the addition of several new team members within the last year. Within the last three months, the following people were hired to enhance the company's Transportation team: Mike McLeod; Kristina LaBarre; Rachel Parks; Ben Blanks; Connie Voong; Markita Hodge and Riley Crawford.
Allied American Underwriters (AAU), a division of USG Insurance Services, Inc., has hired Stan Connally as producer/broker for workers' compensation in the Tampa, Fla., branch. Connally joins AAU with 36 years of experience in workers compensation. Most recently, Connally worked with Employers National Insurance Co. as vice president/Marketing.
South Central
Penni Nelson has been named president of the Dallas-Fort Worth chapter of the Risk and Insurance Management Society (RIMS) for 2019. Nelson serves as director of Risk Management for Hillwood Development Group and has been involved with RIMS for almost 10 years. As the largest of four Texas RIMS Chapters, the DFW Chapter boasted more than 425 members in 2018.
EPIC Insurance Brokers and Consultants hired Joffrey Clark in the firm's property/casualty practice as a principal and charter school practice leader. He is based in Dallas and reports to EPIC Southwest Region Managing Principal and Director KJ Wagner. Clark will be responsible for new business development and building EPIC's charter school practice. Clark joins EPIC from McGriff, Seibels & Williams Inc. and brings 20 years of industry experience.
EPIC also added Brandon Rich in its property/casualty practice in Houston as a client advocate, reporting to Wagner. Rich will be responsible for new business development and programs for mid-market and large clients. Rich joins EPIC from Upstream Brokers, where he served as a vice president. Prior to that, he spent most of his career with Arthur J. Gallagher.
Roman E. Bernal has joined AXA XL's broker and client management team in Houston as client distribution leader for the South Central region, reporting to Wayne Speeg, South Central regional leader. Bernal will be a key contact for brokers and clients in the region, helping them address their multi-line property, casualty and specialty insurance needs in the U.S. and internationally, through AXA XL's global network. Bernal joins AXA XL from AIG in Houston where he recently served as regional business development director. His career also includes positions with Aon, Brown & Brown and Travelers.
Midwest
Lansing, Michigan-based property/casualty insurer AF Group has promoted five in key leadership positions across the organization.
Abel Travis has been promoted to vice president, Underwriting & Product Innovation. Prior to joining AF Group in April 2018, Travis was assistant vice president and head of commercial lines product management for Hanover Insurance Group.
Keri Kittmann is now vice president, Servicing Carrier Operations. Kittmann joined AF Group in 200, and has held various management positions within the organization. In 2009, she was named AF Group's "Leader of the Year." Prior to joining AF Group, she held several finance and accounting roles for Citizens/Hanover Insurance and Blue Care Network.
Mitch Walsh has been named vice president, Business Transformation. Walsh joined AF Group in 2015 as director of Strategy and Operations. Prior to joining AF Group, he served as vice president of Insurance Services at Texas Mutual Insurance Co. and previously held several executive-level positions including vice president of Loss Prevention & Underwriting Systems.
Becky Holnagel has been appointed chief actuary. Holnagel has held several management positions since joining AF Group in 2006 and now leads the company's Actuarial and Predictive Modeling teams and data strategy initiatives. Prior to joining AF Group, Holnagel served as a senior actuarial analyst for MEEMIC Insurance Co. and as an actuarial analyst and commercial lines underwriter for Citizens Insurance Co.
Jacob Geyer has been promoted to vice president, AF Specialty; and vice president, Business Analytics and Underwriting Operations. Geyer joined Accident Fund in June 2008 as a senior actuarial analyst. Prior to this, he worked at Liberty Mutual in an actuarial role for pricing and ratemaking.
Randy Perez has been hired as senior vice president of product management for Columbus, Ohio-based Motorists Insurance Group. Perez comes to Motorists from Horace Mann, where he spent three years as vice president of pricing and product management. Perez has 20 years of experience in the personal lines industry.
West
CSAA Insurance Group has named Katherine Evans vice president of regulatory and government affairs. Evans will oversee all areas of CSAA Insurance Group's government and regulatory practices, and will report to the company's chief legal officer, Mike Zukerman.
Evans has been senior counsel in the company's regulatory group since 2014. Prior to joining CSAA, Evans was an insurance regulatory partner with Dentons.
San Francisco, Calif.-based Woodruff Sawyer has named Frank Mckenna senior vice president and national healthcare practice leader. Mckenna will be responsible for expanding and growing the current Healthcare practice. Mckenna was previously president of the healthcare practice for a large national broker.
Was this article valuable?
Here are more articles you may enjoy.
From This Issue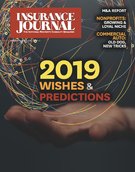 Agency Mergers & Acquisitions Report; Markets: Nonprofits, Commercial Auto; Claims Trends