National
MetLife has named Darla Finchum as head of the company's U.S. property/casualty business, MetLife Auto & Home. Finchum had been serving in this role on an interim basis since last August. She will be responsible for growth and management of the company's personal and small commercial lines as well as transforming the business to serve technology-focused consumers. She will report directly to Michel Khalaf, president of the U.S. business and join the U.S. business senior leadership team. Prior to taking on the interim leadership role, Finchum served as chief claims officer. She joined MetLife in 2000 through the acquisition of St. Paul Companies.
The New York-based Insurance Information Institute has added two communications professionals to the organization. Janet Ruiz, an I.I.I. consultant for the past four years, is now the I.I.I.'s director of Strategic Communication, based in the San Francisco area. She will continue to work with California media, insurers and regulators on behalf of the I.I.I. Ruiz previously worked at Fireman's Fund and State Farm. Scott Holeman joins the I.I.I. as director of Media Relations. Based in Kansas City, Missouri, he will work with national media and serve as a spokesman on commercial insurance, disaster preparedness, innovation and cybersecurity. Prior to joining I.I.I., Holeman was the communications director for the National Association of Insurance Commissioners. He also has worked as news director, anchor and reporter for television stations in Kansas and Missouri.
East
Satellite Agency Network Group, a national alliance of independent insurance agencies, has hired Mike Terry as regional vice president. He will be responsible for membership service, business development and insurance company relations for all SAN Group member agencies in his territory of Southern/Eastern Connecticut and Rhode Island. Terry most recently served as an insurance advisor for Liberty Mutual.
Optisure Risk Partners, a Manchester, N.H.-based provider of risk management and insurance, has hired Greg Soden as vice president of revenue development, Soden will work as part of the executive leadership team to develop strategies for revenue growth for Optisure. Soden brings to this position 20 years of experience in human resources outsourcing and consulting, as well as property, casualty and employee benefits. He also owned and managed an insurance agency for a number of years.
The Iroquois Group, an Allegany, N.Y.-headquartered network of independent insurance agencies, has hired Charles Venus as its vice president of Middle Market & Specialty. Venus is based in Northern Virginia. The former commercial lines producer for Brown & Brown of Virginia will help Iroquois members develop middle market and specialty insurance business. Prior to Brown & Brown, Venus worked at Travelers and The Hartford.
Southeast
Alliant Insurance Services has made two personnel additions to its private client team in South Florida. Karen Chanin has joined Alliant as vice president and will focus on the company's private client growth strategy, which has been enhanced by its recent acquisition of Crystal & Co. Chanin has 30 years of personal insurance experience in southern California and south Florida. Prior to joining Alliant, Chanin was vice president with Marsh Private Client Services group. The company also hired Melinda Meissner Barham as senior vice president. She will consult for high-net-worth individuals in the Southeast. Barham will also work in business development within this region. Barham has 20 years of personal insurance experience. Prior to joining Alliant, she was senior vice president with the Marsh Private Client Services group.
Lucas Aloisi has opened a Brightway Insurance Agency in Parkland, Fla. Brightway, Florida, native Aloisi comes to Brightway from MassMutual, where he worked in financial planning and insurance for the past two years.
Midwest
Peoria, Illinois-based RLI Corp. has promoted Bob Kirk and Brian Schick within its surety group. Kirk, assistant vice president, Commercial Surety, is now vice president, Commercial Surety. Kirk succeeds Martha Weissbaum, who recently retired from RLI after 18 years with the company. In his new role, Kirk will assume responsibility for RLI's Commercial Surety product strategy and underwriting. He joined RLI in 2000 as regional manager, Commercial Surety, and was promoted to assistant vice president in 2008. Prior to joining RLI, he was a regional manager at AmWest Surety. Kirk has 28 years of insurance industry experience. Schick, assistant vice president, Contract Surety, has been promoted to vice president, Contract Surety, and will assume responsibility for product strategy and underwriting operations. He joined RLI|CBIC in 1994 as manager, Underwriting. He was promoted to director, Underwriting, in 2012 and assistant vice president, Contract Surety, in 2013. Schick has 24 years of insurance experience.
Vance Williams and Mike Jones have joined Leavitt Recreation & Hospitality Insurance in Sturgis, S.D. Both Williams and Jones will focus on commercial insurance for the recreational industry, including RV parks, campgrounds, trailer parks, hunting preserves, and lodges. Williams has four years of sales experience working in the industrial supply and automobile industries. Prior to joining the agency, Jones worked for 19 years in the steel industry as an electrical craneman. He also has experience working in customer services and the hospitality industry. LRHI is part of the Leavitt Group.
Cannasure Insurance Services, a managing general agent and wholesale broker for the cannabis and hemp industries, has hired Jay Dharia as client service director in the group's Cleveland, Ohio, corporate office. Dharia will be responsible for the group's service and support staff, overseeing account and service performance, enhanced service and efficiency ratios. Dharia has spent the past five years with AMICA Insurance in the Midwest and Texas. He also worked with under-performing offices in Arizona, Connecticut and Washington to restore them to the AMICA performance standards. Cannasure provides insurance for U.S. cannabis and hemp businesses.
South Central
Bryan Shofner has joined Houston-based wholesale insurance broker and managing general agency, LP Risk, as director of operations. Shofner's previous roles include senior vice president of Marsh McLennan Agency and president and CEO of Shofner & Associates Insurance Agency. Shofner serves on the board of directors of the Texas Windstorm Insurance Association. He previously served as president of the Independent Insurance Agents of Texas.
Houston-based Delta General Agency Corp. hired Sean Buchtler as manager of Personal Lines. Buchtler has many years of underwriting and sales experience with a career focus in personal lines. He will be looking to expand Delta's brokerage capabilities and carrier relationships and strengthen its agency partnerships.
Iowa-based Holmes Murphy is expanding into the Houston and Central Texas markets and has added Travis Brashear to lead the initiative. Brashear will lead Holmes Murphy's Houston team as vice president/market leader for South and Central Texas, to expand the employee benefits division. Brashear, an attorney and expert in employee benefits, brings 22 years of experience, including with divisions of Cigna. He has also served in a consulting role for Willis Towers Watson. Most recently, he was chief growth officer for Imagine Health.
West
Phoenix-based CopperPoint Insurance Cos. has named Rachel Davis-Schultz senior vice president and chief human resources officer. Davis-Schultz has 21 years of experience. For the past 10 years, she has been with Express Scripts, a pharmacy benefit manager. CopperPoint is a multi-line commercial insurance company with additional offices in Westlake Village, Calif.
California Insurance Commissioner Ricardo Lara announced new members of his executive team at the California Department of Insurance. Chief Deputy Catalina Hayes-Bautista joins after serving as deputy legislative affairs secretary for Gov. Jerry Brown. Senior Deputy Commissioner and Legislative Director Michael Martinez rejoins the CDI, where he was deputy insurance commissioner and legislative director for Commissioner Dave Jones. He was previously a deputy legislative affairs secretary for Brown. Michael Peterson will serve as deputy commissioner for climate and sustainability, believed to be the nation's first such executive-level position. He previously served as legislative consultant to Lara. Director of Community Outreach Julia Juarez will lead the CDI's engagement with California communities. She previously served as a district director for Lara. Special Assistant David Green joins the department after serving in the Capitol office of Senator Lara. Michael Soller will serve as deputy commissioner for communications and press relations in Northern California. He previously served as communications director to Lara and as communications director for the state Democratic Party.
Was this article valuable?
Here are more articles you may enjoy.
From This Issue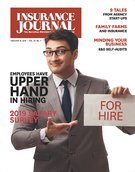 Agency Salary Survey Results; Markets: Marinas & Boat, Agribusiness / Farm & Ranch