National
Nashville-based auto insurer The General has appointed veteran insurance executive Tony DeSantis to president and CEO, joining Chief Operating Officer Steve Tjugum as the company's top leaders. Elicia Azali has been named Marketing senior vice president for the insurer that offers non-standard auto insurance. DeSantis has served as president and CEO at AIG Direct, where he was for more than 20 years, and president and CEO of 21st Century Insurance, as well as president of personal insurance product lines at Farmers Insurance. Most recently since 2017, he served as CEO of Ironshore's Syndicated Risk Services, a startup managing general agency. COO Tjugum moved to The General from American Family Insurance, the parent company of The General, where he worked for more than 30 years. Azali comes to The General from Nationwide Insurance, where she held leadership roles in marketing, advertising, product lines and innovation.
Specialty insurer Tokio Marine HCC announced that Shilpa Strong has joined the company as business innovation officer. Strong has 20 years of industry experience, most recently as global head of Commercial Engagement at American International Group (AIG). She was at AIG for almost 13 years. She has also held positions at Savant Financial Technologies, Quanta Capital Holdings, Munich Re and Swiss Re. She is based in New York and reports to Executive Vice President Mark Callahan.
East
Jimcor Agency Inc., a Montvale, N.J.-based independent managing general agent and insurance wholesaler, has hired Kyle Lacertosa as a brokerage specialist writing both brokerage and binding business. Lacertosa works out of Jimcor's Long Island office located in Plainview, N.Y. He began his insurance broker career at Risk Placement Services in 2014, in which he focused on all aspects of the New York construction market and casualty placements. At Jimcor, he will continue to expand his expertise in the N.Y. construction markets and other hard-to-place risks.
New York-headquartered JenCap Holdings LLC (JCH), a specialty insurance business, has promoted Mark P. Maher to chief operating officer and hired David Nielsen as corporate chief financial officer. Maher will work with the JenCap management team to manage carrier and broker relationships, and he will work with divisional business leaders to achieve a cross sale protocol and maintain service throughout the organization. Most recently, Maher was president of JenCap's NIF Group, a managing general agency, program manager and wholesale insurance brokerage based in New York with offices in the Northeast and West. He has been with NIF for 30 years. Nielsen has spent his more than 30-year career in the financial services industry, serving as chief operating officer in Wells Fargo's wholesale business, and more recently, as chief financial officer of CommunityOne Bancorp.
South Central
Global insurance broker Lockton Companies opened an office in the greater New Orleans area headed by Tim Woodard. Danelle Heathman has been appointed as a senior vice president, and Cheryl Cabrera will serve as a senior account manager. Heathman and Cabrera joined Lockton from a New Orleans broker where Cabrera was an assistant vice president and Heathman served as a senior vice president and the marine practice leader. Woodard relocated from Lockton's Houston office. He previously served as a member of a New Orleans law firm where he practiced marine and insurance law. Woodard, Heathman and Cabrera have more than 73 years of collective experience in the marine and energy industries, and the new office will work closely with Lockton's global marine and energy practice.
Michael Hubbell, who has served as vice president of Risk Management for TDECU – Your Credit Union, has been appointed as chief risk officer for the Lake Jackson, Texas-based credit union. In addition to 17 years of credit union experience in branch operations, lending operations, wholesale lending and information systems, Hubbell is a member of the Risk Insurance Management Society (RIMS) and has earned The Institutes' ARM-E and AINS designations.
RHSB (Roach Howard Smith & Barton) hired Dennis Fowler as vice president in its Fort Worth, Texas, Employee Benefits Practice group. Fowler has been an employee benefit consultant for more than four years with another Dallas-area broker. He has previous experience in sales management roles and in human capital management consulting. RHSB is an independent insurance brokerage firm providing business insurance and risk management to companies and personal insurance to individuals and families.
Midwest
United Group Alliance (UGA), an alliance of independent insurance agencies, hired Dianne Swanson as regional vice president for Ohio. Swanson will be responsible for membership service and business development for all UGA member agencies in her territory of Central/Southeastern Ohio. She will work closely with Nicole Kaylor, UGA's regional agency development field specialist. Most recently, she served as the regional brokerage consultant for Nationwide Brokerage Solutions.
Indianapolis-based independent insurance broker, ONI Risk Partners (ONI), has welcomed back Andrea Fehrenbacher in a new role as managing director of placement and risk transfer. In this role, Fehrenbacher leads the ONI placement and risk transfer team across its Indiana, Kentucky and Illinois footprint. Fehrenbacher is a 20-year insurance industry veteran and previously worked for ONI for 14 years. Most recently, she was a commercial insurance advisor and insurance marketing manager. ONI Risk Partners is a member of Atlanta-based Prime Risk Partners.
UFG Insurance in Cedar Rapids, Iowa, appointed Jeanette Dostal as Midwest regional manager. Dostal will succeed current Midwest regional manager Corey Ruehle, who was appointed chief claims officer in January. Dostal is currently the underwriting manager of the Midwest region based in UFG's Cedar Rapids headquarters. She joined UFG in 1996 in a commercial lines support role and has since held the positions of commercial lines underwriter and commercial underwriting supervisor. She was promoted to Midwest region underwriting manager in 2012 and named an assistance vice president in 2014.
Southeast
Willis Towers Watson has appointed Jonathan Oppenheim as regional Construction leader in its Southeast region, part of the company's North American Construction business. Oppenheim, a 30-year industry veteran, joins the company from JLT Specialty U.S.A., where he most recently served as partner in its construction risk partners business. Based in Atlanta, Oppenheim will be responsible for business development and managing the company's construction portfolio in the region. He will focus on delivering the company's services and products to clients including contractors, project owners, developers, architects and engineers.
INSUREtrust has added Rachel Boyd as a Professional Lines account executive on Executive Vice President Christiaan Durdaller's brokering team. Boyd has seven years of wholesale experience in management liability, allied healthcare, medical malpractice, cyber and miscellaneous professional liability. She began her career at Trilogy Risk Specialists handling its small professional lines accounts and has spent the last two years as an account manager at Brown and Riding, working on Allied Healthcare and D&O. Boyd will help INSUREtrust continue to grow its management liability and allied healthcare books of business. INSUREtrust, located in the Atlanta metro area, is a national insurance wholesaler covering commercial risks generated using the internet, such as privacy and security breaches.
Metro Atlanta-based InsuranceHub's Lee LeBaigue has transitioned from vice president of Sales to vice president of Technology. LeBaigue joined InsuranceHub in 2011 with a background in SEO and business management. He began managing online lead acquisition and the sales process before spending the next several years selling personal and commercial insurance. In 2016, Lee was promoted to vice president of Sales. InsuranceHub has since brought on dedicated, full time staff members to a technology- and marketing-focused division, which is the department that LeBaigue has been tapped to lead. The Marketing Technology division at InsuranceHub is responsible for marketing, lead generation and application development. InsuranceHub is a technology-driven insurance agency.
West
Lakeport, Calif.-based Lincoln-Leavitt Insurance has added Tina Gordon and Maria Davis. Gordon will focus on commercial insurance for the construction, manufacturing, retail and wholesale industries. Davis is an account manager and will service client accounts. Prior to joining the agency, both Gordon and Davis worked for Northwest Insurance/George Petersen Insurance. Gordon has worked in the insurance industry since 1989. Davis has 25 years of insurance experience. Lincoln-Leavitt is part of Leavitt.
USG Insurance Services has named Jeremy Weyrauch as a producer and broker in its satellite Oregon City, Ore. branch. Weyrauch has 13 years of experience. He started in the industry at Travelers Insurance and moved to wholesale in 2017 with Scottish American. He then moved to RPS before joining USG.
Stockton, Calif.-based M.J. Hall & Company Inc. announced that Patrick Lo, senior vice president and treasurer, retired on March 1. He is succeeded by Art Terner. Terner was previously the firm's chief accountant. He began his career in the insurance industry 30 years ago and worked as chief financial officer for Financial Pacific Insurance and Aspire General before joining M.J. Hall.
Mayer Brown has named Paul P. Chen a partner in the corporate and securities practice in Northern California. Chen focuses on complex transactions in the insurance, financial services and health care sectors, especially deals involving technology and innovation. Chen was most recently at DLA Piper in San Francisco and Silicon Valley, where he was head of U.S. transactions for the insurance sector in addition to serving as head of Asia Corporate.
Was this article valuable?
Here are more articles you may enjoy.
From This Issue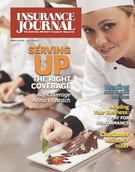 Manufacturing; Markets: Restaurants & Bars; Corporate Profiles – Spring Edition