Holborn Corporation, a reinsurance intermediary based in New York, said John Gilbert has stepped down as chairman of the board of directors, a position he has held since 2005.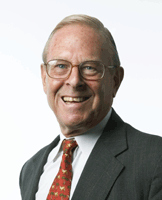 Gilbert — who first joined the firm 50 years ago — will retire from his other management duties at the end of the year, while continuing to serve as a Holborn director.

The board also named president and chief executive officer, Frank Harrison, to succeed Gilbert as chairman, effective immediately.

Gilbert joined Holborn as a broker trainee in 1962. He was named president in 1973 and led the firm through its conversion to employee ownership, upon which he served as chief executive officer until 2005.

"It is with incredible pride that I hand over the baton at Holborn, knowing that I have helped to build a firm of such strength, integrity and quality of service," Gilbert said.

"I know that our clients can have confidence that this firm will stay the course in the capable hands of Frank Harrison and his team, and that Holborn will continue to go from strength-to-strength."

Founded in 1920, Holborn Corp. is an independent reinsurance brokerage firm headquartered in New York City. Through the adoption of an employee stock ownership plan (ESOP) during 1998, it became exclusively owned by its employees.
Topics New York
Was this article valuable?
Here are more articles you may enjoy.