An annual study released this week by Plymouth Rock Assurance shows that 33 percent of New Jersey motorists surveyed admit to having read/texted messages while driving in the past. Plymouth Rock says that's the highest percentage recorded since the company started its annual distracted driving study three years ago.
And 38 percent of the drivers surveyed said they have spoken on the phone without hands-free technology while driving. In New Jersey, texting while driving and handheld cellphone use/talking are prohibited for drivers of all ages.
Additionally, 11 percent of New Jersey motorists surveyed said they have driven under the influence of alcohol in the past, while 3 percent said they have driven under the influence of narcotics.
This poll, conducted between March 31 and April 2, in partnership with online survey provider Cvent, consisted of 1,000 consumers with valid New Jersey drivers' licenses who operate a vehicle at least once per week. The sample was provided by eRewards, a service of Research Now Group Inc. Cvent and Research Now are independent research consultants and survey providers.
The following chart lists the percentages of respondents who said "yes" to various driving behaviors in Plymouth Rock's annual surveys during the past three years.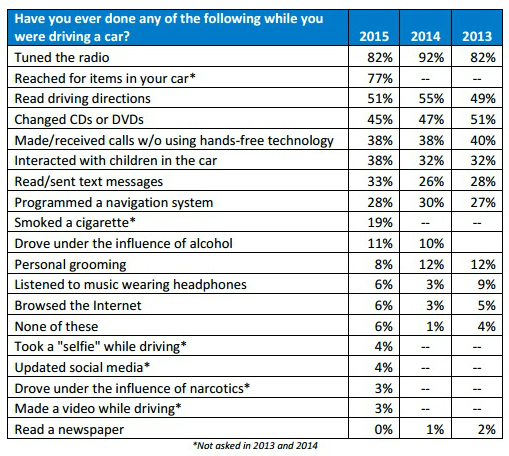 Topics Trends Personal Auto New Jersey
Was this article valuable?
Here are more articles you may enjoy.