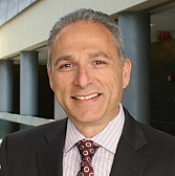 Plymouth Rock Assurance has promoted Larry Nisenson to president of the Plymouth Rock Prudential Agent Division. He is based in Red Bank, New Jersey.

Plymouth Rock's Prudential Agent Division supports New Jersey Prudential Financial's professionals who are authorized to distribute Plymouth Rock's auto insurance products in New Jersey.

Nisenson has been serving as vice president of Sales for the Prudential Agent Division since joining Plymouth Rock in 2014. He has more than 20 years' experience in insurance sales, including executive positions at Allstate, AIG and AXA Equitable.
He succeeds Jim Tignanelli, former president of the Prudential Agent Division, whose retirement will be effective, Jan. 1, 2016.
Plymouth Rock Assurance is an insurance group that underwrites and manages property and casualty policies through independent companies in several states, including Connecticut, Massachusetts, New Hampshire and New Jersey. Plymouth Rock's relationship with Prudential Financial is specific to New Jersey.
Topics Agencies New Jersey
Was this article valuable?
Here are more articles you may enjoy.