Hartford InsurTech Hub, powered by Startupbootcamp, hosted its second Demo Day at the Bushnell Performing Arts Center in Hartford, Conn., on April 26.
The InsurTech Accelerator is the first component of Hartford InsurTech Hub, an initiative established in 2017 by Hartford insurance companies, the City of Hartford and CTNext that is focused on addressing the need for attracting new technologies and talent in insurance and technology into the City of Hartford and the local ecosystem, according to a Startupbootcamp press release.
Out of 10 startups graduating from the program's latest cohort, three have secured pilots with insurance companies within the Hub's core sponsoring partners: Aetna, Capgemini, Cigna, Clyde & Co, The Hartford, Travelers, USAA and White Mountains.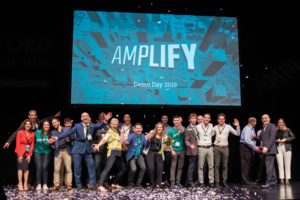 "InsurTech is emerging as a category of its own right with over $20Bn of investment received by startups serving the sector since 2015," said Sabine VanderLinden, CEO of Startupbootcamp InsurTech and partner at Rainmaking, in the release. "While we are at the very beginning of our journey identifying those disruptive innovations that will affect the insurance sector forever, we need to be mindful that to do so, we need to create innovation centers and hubs that welcome unique innovative minds, talent and expertise."
At Demo Day, the 10 startups showcased technologies that help amplify health, life, and property and casualty insurance companies, with propositions ranging from improving customer engagement to digital health, to property insurance claims process, according to the release. This year's theme, "Amplified", included more than 500 attendees and more than 600 viewers on the livestream, the release stated.
"Startups involved in the program have the opportunity to engage with our strong insurance ecosystem that includes a deep investor network, broad mentor group and robust program content," stated Dawn LeBlanc, managing director for Hartford InsurTech Hub, in the release. "Startupbootcamp's global network and name recognition attract the newest and brightest startups to the Hartford InsurTech Hub. As a program, we help identify trends and make the most relevant connections while growing the insurance ecosystem."
During the event, keynote speaker Erin Hatzikostas, founder and CEO of Authentic Inc., spoke with insurance companies about the importance of incorporating authenticity in the workplace in order to drive profits and attract talent.
"Make it part of your strategy," she stated. "Call it whatever you want, but be real and focus on it, that's how you're going to attract the talent."
Hatzikostas added that the two biggest issues she sees in the workplace today are gender diversity and a lack of engagement among employees.
"I would argue that authenticity is the superpower that takes down those two statistically significant issues," she said.
Indeed, she shared an example from her own experience as the CEO of financial advisor Payflex for two-and-a-half years.
"In that time, we took a company that was flat earnings for at least four years, and we tripled it," she said. "Our culture index scores went up 12 percentage points. By empowering authenticity, by doing simple things that made people feel comfortable to give me their ideas, to walk into a room and make a contribution, to put on their out of office that says 'I'm taking a real vacation,' to be able to set up meetings with our teams how they saw fit, we saw authenticity spread like wildfire."
Each startup initially relocated to Hartford, Conn., for the three-month accelerator program. Three of the startups are from the United States, while the remaining seven have relocated from countries such as Australia, Switzerland, South Africa, Israel and Canada.
As well as securing pilots within Hartford Insurtech Hub's corporate partners, the startups have also been engaged with local Hartford and Connecticut communities. All of the startups in the cohort have hired students from the University of Connecticut and the University of Hartford as interns throughout the program. Both universities have established a joint InsurTech course as a result of the Hartford Insurtech Hub's program, and these interns are participating in the course, the release explained.
In the future, the accelerator program plans to stretch its reach to other cities in Connecticut.
"Let's build Hartford as a global InsurTech capital where young ventures directly engage with the rich local ecosystem of insurers, adjacent market players, new entrants, local communities, city representatives, the governor, and the regulator to create differentiated capabilities that leverage Connecticut and Hartford's strengths," VanderLinden added in the release.
The ten teams that were showcased during Demo Day were:
Pineapple – Pineapple offers P2P insurance and comes to Hartford from South Africa.
handdii – Coming from Australia, handdii is a digital platform that automates the property insurance claim process from FNOL through to claim finalization.
Dream Payments – Dream Payments is a Fintech startup from Canada that powers digital and mobile payment services for business customers.
Pitch Gauge – Pitch Gauge, from Georgia, is a roofing estimating application using mobile devices to do property inspections.
Medyear – From San Francisco, Medyear is a social network for healthcare collaboration. It connects consumers to more than 190 health systems and 700,000 doctors to real-time chat, secure email, microblogging and personal health records.
SkyWatch – SkyWatch is a licensed insurance broker in all 50 U.S. states offering a software for connected, moving platforms. It is from Israel.
Talem Health Analytics – Coming from Canada, Talem Health Analytics provides data-driven insights on bodily injury claims cost.
See Your Box – Coming from Switzerland, See Your Box provides Industrial IoT tools to digitize supply chains. It is a tech-service platform that collects, analyses and extracts information related to goods across the supply chain.
ClaimSpace – Coming from Australia, ClaimSpace is a platform that bridges the communication gap between customers, insurers and stakeholders during the claims process.
CareValidate – Powered by a life-saving light bulb called SafeLight, CareValidate provides health, safety and quality of care telematics to transform workers' compensation, senior living, long-term care, life and health insurance products with plug-and-play insurtech solutions. It is from Georgia.
Related:
Topics Claims InsurTech Tech Talent Training Development Canada Connecticut Australia Startups
Was this article valuable?
Here are more articles you may enjoy.