New York Superintendent of Financial Services Linda A. Lacewell has appointed My Chi To as executive deputy superintendent of the Insurance Division at the Department of Financial Services (DFS), which regulates more than 1,400 insurance companies with assets of $4.7 trillion.
To is a partner in Debevoise & Plimpton's restructuring group and global insurance practice. She represents clients across the insurance industry, including insurers, reinsurers, pension funds, private equity firms and other capital providers, in a wide range of transactions and restructuring matters. This includes state insurance rehabilitations and liquidations, insurance holding company bankruptcies, reinsurance transactions, reserve and other financings, pension risk transfers and other complex transactions and restructurings involving insurance businesses.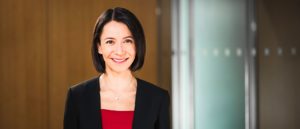 An advocate for women in law and business, she is a member of the Steering Committee of the U.S. 30% Club, a group of business leaders focused on improving the representation of women at all levels of U.S. organizations, including corporate boards. She will join New York state's Committee for the Advancement of Women in Leadership in Financial Services, which was announced by Governor Andrew M. Cuomo in September.
Source: New York Department of Financial Services
Was this article valuable?
Here are more articles you may enjoy.