Natural disasters across the globe caused economic losses of US$280 billion in 2021, of which roughly US$120 billion were insured, according to a report from Munich Re, which noted that U.S. natural catastrophes represented an exceptionally high proportion of the global economic price tag – at roughly $145 billion – costing insurers approximately US$85 billion.
Alongside 2005 and 2011, the year 2021 proved to be the second-costliest ever for the insurance sector, behind the record year of 2017 when insurers had claims of $146 billion (inflation adjusted). In 2017, insurers paid for a high number of hurricanes, including three Category 4 hurricanes, Harvey, Irma and Maria, which made landfall in the United States and its territories.
Munich Re cautioned that many of the year's weather catastrophes adhere to the expected consequences of climate change.
"The 2021 disaster statistics are striking because some of the extreme weather events are of the kind that are likely to become more frequent or more severe as a result of climate change," according to Ernst Rauch, chief climate and Geo Scientist at Munich Re, and head of the Climate Solutions Unit, in a statement.
"Among these are severe storms in the USA, including in the winter half-year, or heavy rain followed by floods in Europe. For hurricanes, scientists anticipate that the proportion of severe storms and of storms with extreme rainfall will increase because of climate change," he added.
"Even though events cannot automatically be attributed to climate change, analysis of the changes over decades provides plausible indications of a connection with the warming of the atmosphere and the oceans. Adapting to increasing risks due to climate change will be a challenge," Rauch said.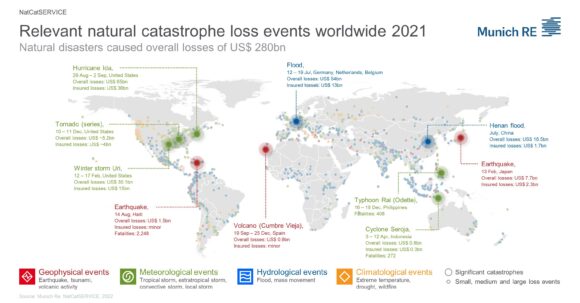 "The images of natural disasters in 2021 are disturbing. Climate research increasingly confirms that extreme weather has become more likely. Societies need to urgently adapt to increasing weather risks and make climate protection a priority," commented Torsten Jeworrek, member of the Board of Management. "Insurers meet their responsibilities by covering a portion of the risks and losses. By applying risk-adequate premiums, they put a price on natural hazards, thereby encouraging carefully considered behavior to limit the losses."
Other findings from Munich Re report include:
Overall economic losses of US$280 billion in 2021 were the fourth highest to date with the highest overall losses reported in 2011 at US$355 billion.
The 2021 hurricane season was again significantly above the long-term average (14.3 for the period 1991 to 2020), with 21 named tropical storms. A new record was set in 2020 with 30 named tropical storms.
Hurricane Ida was the year's costliest natural disaster, with overall losses of US$65 billion, of which approximately US$36 billion were insured. A total of 114 people lost their lives.
An exceptional cold wave brought icy temperatures as far as the southern U.S. in February 2021. Millions of people were left without electricity. With overall economic losses of US$30 billion (half of which were insured), the event was the year's third-costliest natural disaster.
European flash floods after extreme rainfall caused overall losses of US$54 billion (€46 billion) in July, the costliest natural disaster on record in Germany. Gemanys losses from the floods came to US$40 billion (€33 billion).
Tornadoes brought a series of severe storms across several central and southeastern states, which led to exceptionally high losses, especially for the month of December. According to initial estimates, overall losses amount to around US$5.2 billion, with projected insured losses of US$4 billion. An estimated 90 people were killed.
The global insurance gap, or the uninsured portion of the economic losses, declined slightly due to a higher proportion of U.S., but was still approximately 57%. "This insurance gap has declined over the last few decades in industrialized countries, whereas in poorer countries it remains unchanged at over 90%," said Munich Re.
In the Asia-Pacific region, natural disaster losses remained modest with overall economic losses of US$50 billion, of which US$9 billion were insured, revealing an insurance gap of 83%. The region accounted for just 18% of overall losses and 7% of insured losses.
Almost 10,000 people lost their lives in natural disasters in 2021 across the globe, a death toll comparable with those of recent years.
Source: Munich Re
Photograph: Lyndell Scott walks past the debris of his gutted home in the aftermath of Hurricane Ida in LaPlace, La., Friday, Sept. 10, 2021. Photo credit: AP Photo/Gerald Herbert.
Was this article valuable?
Here are more articles you may enjoy.