Indiana Governor-elect Eric Holcomb has reappointed Stephen Robertson as the commissioner of the state's Department of Insurance.
Robertson was appointed by Gov. Mitch Daniels as commissioner of the department in 2010 and was reappointed in 2013 by Gov. Mike Pence.
He joined the department in 2008. His insurance career began with the Nebraska Department of Insurance as general counsel.
Prior to joining the Indiana Department of Insurance, he worked nearly a decade with Conseco Insurance Group as a senior vice president.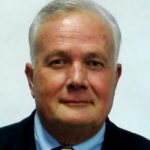 Holcomb also appointed David Cook commissioner of the Alcohol and Tobacco Commission.
Cook has served as the commissioner since his appointment by Pence in 2014. He previously served on the Marion County Superior Court 7 Criminal Division and was appointed to this role by the Indiana Supreme Court in 2014. He also served in a number of roles in Marion County, including chief public defender of Marion County, master commissioner in the Marion County Circuit Court and in the Marion County Prosecutor's Office.
Cook served an adjunct professor Indiana University School of Law and an adjunct professor at Indiana University-Purdue University Indianapolis' School of Public and Environmental Affairs.
Topics Indiana
Was this article valuable?
Here are more articles you may enjoy.