Mayor Rahm Emanuel says 10 more cities have joined Chicago's effort to address climate change after President Donald Trump said the U.S. will pull out of the Paris climate accord.
Emanuel said Tuesday that a total of 67 cities worldwide signed the "Chicago Climate Charter." He was once one of former President Barack Obama's chief aides.
Dozens of mayors signed the document earlier this month during a Chicago summit.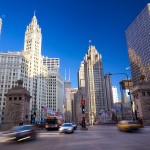 The charter calls for mayors to achieve a reduction in greenhouse gas emissions equal to or more than what is outlined in the Paris agreement. Mayors also vowed to work with scientific and academic experts. Some mayors agreed to specific commitments on public transportation and natural climate solutions, like vegetation.
The new cities include Louisville, Kentucky, and St. Paul, Minnesota.
Copyright 2021 Associated Press. All rights reserved. This material may not be published, broadcast, rewritten or redistributed.
Topics Climate Change
Was this article valuable?
Here are more articles you may enjoy.