Michigan's new auto insurance no-fault law, passed in May 2019, does not take effect until July 2, but the state's governor and insurance regulators say recently approved insurer rate filings already show that insurance rates for Michigan drivers will be lower than the 10% reduction required by the law. In some cases, it appears the reduction could be significant.
Michigan's auto insurance premiums have been among the most expensive in the nation, a condition most attribute to its requirement that drivers purchase unlimited, lifetime medical benefits with their auto insurance policy. The new law allows drivers to opt out, or choose the amount of Personal Injury Protection (PIP) medical coverage to purchase on their policies.
Under the 2019 law there are six levels of personal injury protection, the portion of a premium that covers medical treatment and rehabilitation expenses. It also covers lost wages and in-home help.
Michigan Gov. Gretchen Whitmer and the Michigan Department of Insurance and Financial Services (DIFS) on April 28 unveiled results of a review by outside independent actuaries of PIP rate filings showing that rates were coming in lower than expected.
The review is based on an initial six approved filings that represent a quarter of Michigan's auto insurance market, according to DIFS.
DIFS rejected filings that used any rating factors not permitted under the new law, such as sex, marital status, home ownership, or zip code, requiring companies to resubmit each filing with prohibited factors removed.
The Michigan Chamber of Commerce praised the new findings. In a statement, Wendy Block, vice president of Business Advocacy and Member Engagement with the Michigan Chamber noted that the auto insurance legislation "was the product of bipartisan compromise." While the Chamber views the compromise bill as being "far from perfect," Block said "it's clear from this report that parts of the legislation are working to bring savings to Michigan drivers and businesses.
"Michigan drivers have been paying some of the highest auto insurance premiums in the country and this independent report shows the bipartisan legislation is beginning to work," Block said. "This is welcome news at a time when businesses and employees across Michigan are facing unprecedented challenges."
When the new law takes effect, drivers can choose to keep unlimited, lifetime medical benefits, or they could choose lower levels including $500,000, $250,000 and $50,000. Drivers with health insurance through their employer that covers auto accident-related injuries or Medicare can completely opt-out of medical coverage with their car insurance.
Gov. Whitmer has previously said that PIP rates will be cut for eight years under the law,
The rate reductions derived from the six recently approved filings are shown below are statewide averages.
| | | |
| --- | --- | --- |
| PIP Limit | Mandated Reduction | Avg. Reduction |
| Unlimited | At least -10% | -16.5% |
| $500,000 | At least -20% | -36.3% |
| $250,000 | At least -35% | -41.9% |
| $50,000 | At least -45% | -54.3% |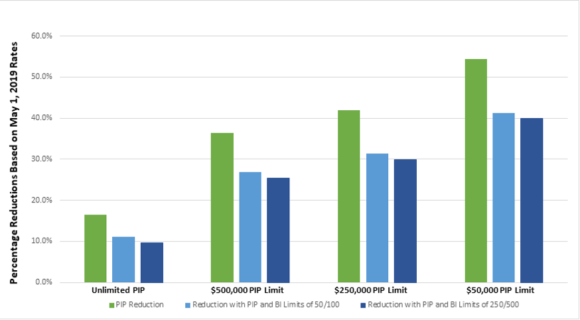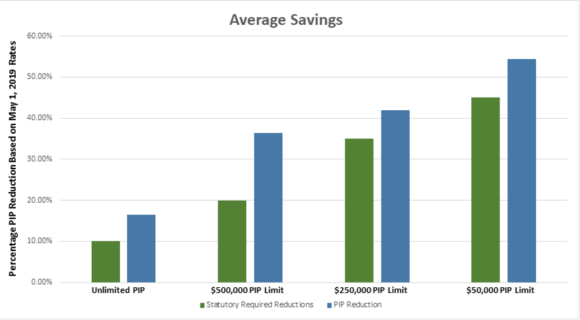 Table and bar chart: Michigan DIFS
Michigan's no-fault system has been in place since 1973. Under the system, after an accident, drivers are required to file a claim with their insurer whether they are at fault or not. The law was amended in 1978 to require unlimited lifetime coverage for medical expenses stemming from an auto accident. Insurers have been eligible for reimbursement by the Michigan Catastrophic Claims Association for claims that exceed $580,000. No-fault insurers currenlty are assessed a $220 fee, which is typically passed on to policyholders, for every private passenger vehicle they cover in order to pay for the reimbursement by the MCCA.
Related:
Topics Auto Legislation Personal Auto Michigan
Was this article valuable?
Here are more articles you may enjoy.