Aspen Insurance Holdings Limited announced this week Mario Vitale, who has been serving as co-CEO of Aspen Insurance division alongside Rupert Villers, will become the sole CEO of the division, effective July 1. Vitale will also remain as president of Aspen U.S. Insurance.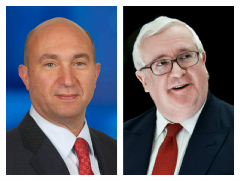 As the sole CEO of Aspen Insurance, Vitale will continue to develop, establish and execute Aspen Insurance's business strategy and manage the day-to-day business of Aspen Insurance globally.

He will also manage Aspen Insurance's U.S. underwriting teams and its U.S. insurance operating platform in his continuing role as president of U.S. Insurance.

Vitale is based in New York but will spend a good amount of time in London overseeing Aspen's insurance segment globally, according to Aspen spokesperson Allyson Morris Vento.

Villers, who has been serving as co-CEO of Aspen Insurance together with Vitale, has agreed to extend his service with Aspen until the end of 2014. He will now serve as chairman of Aspen Insurance, advising and supporting the development and execution of Aspen Insurance's business strategy.

Villers will also serve as president of International Insurance, where he will support the development of strategy for Aspen's International Insurance business and continue to be responsible for the day-to-day management of Aspen Insurance's international underwriting teams.

"As a result of the changes, Aspen will continue to benefit from Rupert Villers' expertise and has put in place a firm foundation for the future strategic leadership and direction of our insurance business under Mario Vitale," stated Chris O'Kane, CEO of Bermuda-headquartered Aspen Insurance Holdings Limited.
Was this article valuable?
Here are more articles you may enjoy.