Cooking fires continue to far exceed most home-related fires, and they are more expensive to repair, according to a new study from Nationwide Insurance.
Fires that start on the stove outpace appliance, fireplace, smoking, candle or furnace fires, the study said. According to claims data compiled by Nationwide, the average cooking fire claim damage is more than $30,000, which is four times higher than the next most expensive type of homeowners claim.
"Seventeen percent of all Nationwide Insurance residential fire insurance claims were caused by cooking last year," said Mark Pizzi, president and chief operating officer of Nationwide Insurance. "We've learned a lot from our response to fires over the past few years. Having a plan and taking some small steps now can go a long way toward preventing the unthinkable."
Nationwide is urging homeowners to observe Fire Prevention Week, October 7-13.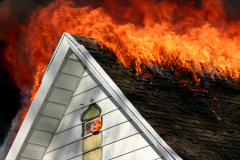 "Use Fire Prevention Week as motivation to make an emergency escape plan, check your smoke alarms, and identify your risks," added Pizzi. "You can never be too prepared for the unexpected."
Last year, Nationwide found that March — followed by April, December, October and May — were the months with the most kitchen fires claims — not just during the holiday months as most people might guess.
According to the National Fire Protection Association (NFPA), one in 22 households will have a cooking fire each year. Cooking is involved in an estimated 156,400 home structure fires reported to U.S. fire departments. These fires caused:
• 420 deaths
• 5,310 injuries
• $993 million in direct property damage
• 16 percent of home fire deaths, 40 percent of home fire injuries and 15 percent of the direct property damage in 2010.
Nationwide offered the following home fire safety and homeowners insurance coverage suggestions to help homeowners make decisions that may reduce fire risks:
• Always keep in sight foods that are being prepared and cooked. Never leave the stove unattended.
• Stay alert.
• Keep things that can catch fire away from heat.
• Never use water on a grease fire!
• Know what to do if there is a cooking fire. Practice the fire escape plan. Know two ways out.
• Keep children and pets away from the cooking area.
• Install and use cooking appliances safely.
• Have working smoke alarms.
The insurer also offered the following tips to help protect personal property:
• Inventory one's valuables, including approximate value and date purchased. Pictures or videos are great. Go to www.KnowYourStuff.org for more information and download free software.
• Store mortgage and other important papers in a safe deposit or fire safe box — and do not store the box on the basement floor.
• Add the insurance company's claims number to contacts on your cell phone.
• Read and understand the homeowner and auto insurance policies, especially the deductibles. Talk to an agent to make sure to have the appropriate amount of insurance coverage.
Topics Homeowners
Was this article valuable?
Here are more articles you may enjoy.