Median organic revenue growth reached 6.9 percent in the 2013 second quarter for mid-size and large privately held insurance agencies and brokerage firms, according to a survey by Reagan Consulting, a management consulting firm for the independent insurance distribution system.
Reagan Consulting said the 6.9 percent median organic revenue growth was the highest recorded in its quarterly survey, which began in 2008. The firm uses confidential submissions from about 125 mid-size and large agencies and brokerage firms. Median revenue of the firms completing the survey is approximately $15 million.
The survey also showed that the agent-broker profitability margin of 24.0 percent was the highest recorded since the survey began.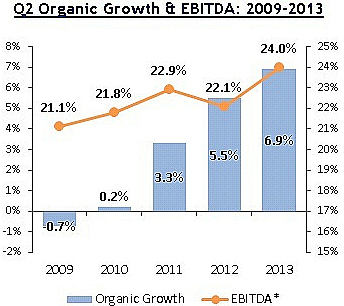 Other survey findings include:
• Privately-held firms held a growth advantage over public brokers, growing 1.6 percent faster than the public brokers' 5.3 percent average rate, as measured by reported results for five large publicly held brokerage firms.
• Commercial lines grew at an 8.2 percent median rate through the first half of the year, up 1.4 percent from 6.8 percent in the first quarter of 2013.
• The second-quarter survey found that agents and brokers, after a strong first-half performance, have increased their full-year 2013 organic growth projection to 7.0 percent.
While profitability in the second quarter is inflated by the cash-basis recognition of contingent income typically received in the first half, the survey said that the earnings trend is strong nonetheless. The survey measures profitability in terms of EBITDA (earnings before interest, taxes depreciation and amortization).
Topics Agencies Trends Profit Loss Commercial Lines Business Insurance
Was this article valuable?
Here are more articles you may enjoy.