Most independent insurance agents are impressed by the carriers they place business with – but most also are interested in adding new company partners.
This is one of the preliminary findings of a recent national survey of independent agents conducted by Channel Harvest Research. The study, "Agents and Carriers Find Opportunity in Relationships," is the seventh in a series examining agents' views on property/casualty carriers as well as marketplace issues. Some 2,200 agents provided their opinions for the survey, which was sponsored by Insurance Journal.
Carrier Ratings & Rankings
Fully 82 percent of independent agents are either "extremely satisfied" or "very satisfied" with their top personal lines carriers, the company with which they place the largest amount of personal lines business; 73 percent of agents feel the same way about their top commercial lines carrier.
Despite these high numbers from agents as a whole, certain subgroups of agents are much less impressed by their top carriers, the Channel Harvest report outlines. While the survey is anonymous to ensure candid responses, the collective characteristics and opinions of subgroups of agents generally may be strong targets for carrier-to-agent marketing because they're most likely to defect from incumbent companies to new ones.
Most agents also give their top carriers high ratings on a variety of specific carrier attributes. Agents give both their top personal lines company and their top commercial lines carrier the highest marks on "financial strength" and the lowest on "social media support."
The Channel Harvest report compares the carrier attribute ratings to how important agents say each attribute is. By making that comparison, the report identifies which attributes companies should emphasize in their communications to agents.
Revenue Growth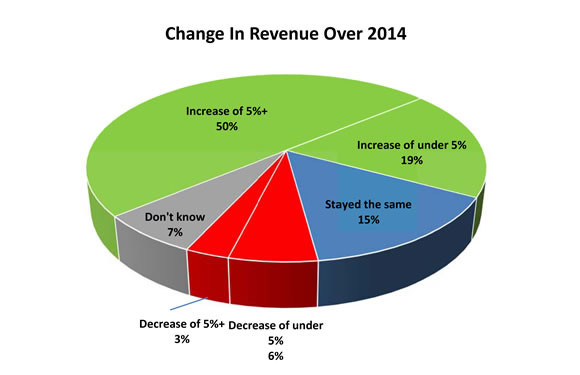 Sixty-nine percent of independent agents report that their firm's revenue was higher in 2014 than in 2013. Some 15 percent say their revenue was about the same, and 9 percent report that their revenue shrunk.
For this year, one way that agents hope to grow their business is by adding new carriers: 74 percent of independent agents are interested in adding new carriers, a number which includes 32 percent of agents who are "very interested." That number is higher among certain subgroups of agents – again, collective characteristics and opinions that the Channel Harvest report identifies and that generally are likely targets for carriers seeking new agency partners.
On the other side of the coin, agents say they aren't interested in growing their business by adding new products: only one in five agents are "very interested" or "somewhat interested" in adding any of 10 products listed in the survey – various types of insurance, financial planning, retirement planning, etc. – to their current offerings.
Aggregation
Most respondents (73 percent) work for a firm that does not belong to an agency aggregator, such as a cluster or network of agencies. And 94 percent of those agents who do not belong to an aggregator say they are unlikely to join one in the next year.
Conversely, 27 percent of respondents work for an agency that does belong to an aggregator. And 87 percent of those agents say they are unlikely to leave their aggregator – no surprise, as 89 percent of agents whose agencies belong to an aggregator believe that their aggregator provides either "a lot" or "some" value-added services and support.
Niche Marketing
The survey explored whether agents are interested in targeting any of several "niches" or market segments. Professionals and millennials are the niches that the greatest number of agents are interested in targeting. The niches that attract the least interest are African-Americans and the Hispanics/Latino market.
Agents' views on niche marketing – and on various other issues – will be outlined in greater detail in the Channel Harvest report and accompanying raw data, which will be available in May. For more information, contact John Campbell, principal of Channel Harvest, at john@channelharvest.com.
Related:
Was this article valuable?
Here are more articles you may enjoy.