The use of drones could become common practice for almost 40 percent of businesses in fewer than five years, according to corporate risk managers.
Those same risk managers say they will buy drone insurance even if it's not mandated.
Munich Re asked risk managers at the recent Risk and Insurance Management Society Conference (RIMS) meeting what they see as the greatest risk of using drones for business purposes. Sixty-nine percent of the risk managers surveyed said potential issues related to "invasion of privacy" were their biggest concern, followed by inadequate insurance (12 percent), personal injury (11 percent), and property damage (8 percent).
An estimated 30,000 commercial and civil drones could be in the skies in the U.S. by 2020, according to the Federal Aviation Administration (FAA). The Association for Unmanned Vehicle Systems International (AUVSI) estimates that between 2015 and 2025, the drone industry will create 100,000 jobs and contribute $82 billion to the U.S. economy.
"Businesses have set their sights on new applications for drones that could speed product delivery, monitor crops or capture claims data among dozens of others uses," said Gerry Finley, senior vice president, Casualty Underwriting, Munich Reinsurance America.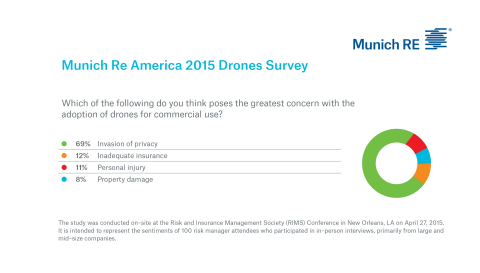 Insurers themselves are among the businesses testing the use of drones even as they assess the risks involved for their customers from an underwriting standpoint. Insurers are particularly interested in using UAVs for disaster response situations.
But movie studios, real estate firms, railroads, retailers and other businesses have also been clamoring for the government to let them use drones for inspections, deliveries, inspections, filming and other endeavors.
Some insurers have begun selling drone insurance to businesses that are already using drones, before safety rules and official approvals are in place.
It's not only private businesses with an interest.
"Drones are also attracting the attention of public entities who view these 'flying robots' as a way to reduce some of the dangers law enforcement officers and other responders face," Finley said. "In some cases, drones will become a common aspect of an organization's operations. However, there are technical, legal, regulatory and risk management issues associated with drone use that must be addressed over time."
Forty-four percent of the risk managers surveyed believe their own companies would consider the use of unmanned aerial vehicles (UAVs) or drones if the FAA approves rules, and 76 percent said they would invest in UAV-specific insurance coverage even if it was not required.
"The drone insurance market is still evolving," Finley said, "as the industry looks at ways to provide coverage for businesses that offer drone services to other entities, or for traditional industry segments that own and operate drones as an incidental part of their operations."
Insurance Services Office (ISO) has developed a series of optional endorsements for its Commercial General Liability and Commercial Liability Umbrella/Excess programs to help insurers address some liability issues surrounding drones. Those have been filed with states and are expected to be available in June.
But, according to Finley, "the lack of credible loss information remains a critical issue for insurers as they seek out the best solutions for this emerging exposure for their clients and the public."
The survey represents the sentiments of 100 risk manager attendees at the RIMS meeting who participated through in-person interviews, and who were primarily from large and mid-size companies doing business in the U.S., Europe, Asia, Australia/Oceania and Africa, according to Munich Re.
Related:
Topics Risk Management
Was this article valuable?
Here are more articles you may enjoy.