A third of people who shopped for auto insurance online actually changed their insurance carrier, an insurance industry survey found.
At the same time, the online opinion survey by the Insurance Research Council (IRC) found that 86 percent of insured drivers said they were satisfied with their current auto insurance company.
Even with such a high reported level of consumer satisfaction, one-in-four respondents who own at least one vehicle said that they had shopped for auto insurance during a recent 12-month period, and 80 percent of the respondents who shopped said they did so primarily to see whether they could get a better price for insurance coverage.
Of those who said they had shopped online, 33 percent actually changed to a different insurance company.
IRS said that respondents indicated a high reliance on information obtained over the Internet as they shopped for insurance. Seventy-one percent who shopped for insurance said they accessed the Internet for information.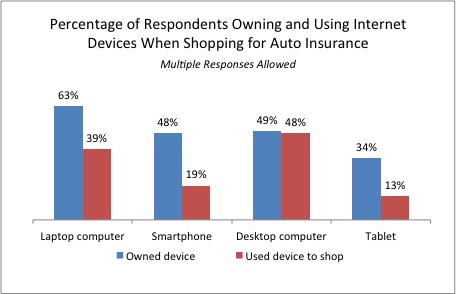 Desktop computers are the device of choice for online shoppers, with 48 percent of shoppers who own a desktop computer saying they used it to shop for insurance, followed by laptops, used by 39 percent of insurance shoppers who own a laptop. Nineteen percent of shoppers who own a smartphone and 13 percent of those who own a tablet said they used those devices to shop for insurance.
"These findings attest to the highly competitive nature of personal auto insurance markets and the degree to which consumers are using the Internet and personal Internet devices to comparison shop. Consumers are armed with more information than ever before, thanks in large measure to widespread device ownership and Internet access," said Elizabeth Sprinkel, senior vice president of the IRC.
The survey was conducted between September 24, 2014, and October 13, 2014.
The IRC is supported by property/casualty insurance carriers and organizations.
Was this article valuable?
Here are more articles you may enjoy.