For Travelers Cos.' dealmaking Chief Executive Officer Jay Fishman, sometimes it's OK to let one get away.
Fishman said Tuesday that he opted against buying Chubb Corp., which agreed to be purchased by Ace Ltd. for more than $28 billion. The CEO, who built his company through mergers and acquisitions, said he's still interested in takeovers.
"We do keep looking at M&A opportunities, and when we believe there is a transaction that contributes to creating shareholder value, we'll make every effort to complete it," Fishman said in a conference call after reporting second- quarter results. "Our shareholders should expect that we are aware of the possibilities and that we are expert at evaluating them."
Ace's agreement this month to acquire Chubb is the largest deal in a year of consolidation in the property-casualty insurance industry. Analysts have speculated that Fishman could consider an acquisition to keep pace, possibly of Hartford Financial Services Group Inc. Fishman said for the first time Tuesday that he weighed the economics of a possible Chubb deal.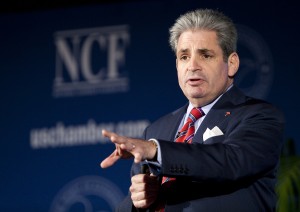 "The return just didn't measure up," Fishman said. Travelers saw only a "modest opportunity to improve the performance of an already high-performing company," the CEO said.
Fishman, 62, ran Travelers when it was still a part of Citigroup Inc. under CEO Sanford "Sandy" Weill. He left the post in 2001 to run St. Paul Cos., then three years later engineered a merger with his former insurer that was valued at more than $15 billion.
Stock Issuance
He subsequently made smaller transactions to expand in Canada and Brazil. So far, he has sat out during the most recent wave of dealmaking.
The CEO said there's "no question" that the company would be prepared to issue stock for the right deal after years of focusing on share repurchases. He also said he believes that credit-rating firms would be comfortable with his New York-based company taking on more debt if it has a plan to reduce leverage.
Travelers climbed 0.9 percent to $103.48 at 10:34 a.m. in New York, the second-highest gain in the Dow Jones Industrial Average. Hartford, based in the Connecticut city of the same name, advanced 1.8 percent.
Fishman posted second-quarter profit Tuesday that increased 19 percent and beat analysts' estimates as natural-disaster costs dropped. He said that while he'd welcome a deal, he's not rushing into one.
"We have the luxury of a plan A that sets a very high bar," Fishman said. That's "a strategy that comes from having highly differentiated competitive advantages, and highly successful business franchises with industry-leading product breadth."
He also addressed his health, after announcing last year that he was diagnosed with a neuromuscular condition. Fishman subsequently cut back on activities that aren't tied to the company.
"I am very much on the job and fully engaged and, at least from my own perspective, there's no decline in my cognitive skill," he said. "We've always taken succession planning seriously."
Copyright 2021 Bloomberg.
Was this article valuable?
Here are more articles you may enjoy.