Bunker, a Hiscox and American Family-backed startup billing itself as the first contract-related insurance marketplace, has officially left startup mode and unveiled its first product. The target audience: independent contractors and small businesses.
The San Francisco-based startup said it has made its platform – dubbed "Project Greenbrier" – available in the U.S. in a beta launch. After approval comes through in Massachusetts (expected in a matter of days), the product can be used in all 50 states, co-founder and CEO Chad Nitschke told Carrier Management via email.
Bunker began in stealth mode about a year-and-a-half ago, with a goal of building a platform that helps businesses understand how to link insurance requirements for independent contracts, suppliers and partners to the financial exposure. The company's technology is also designed to make it easier for gig workers, contractors and small businesses to be able to provide the required insurance products they need in an affordable way. According to Bunker, the platform is structured to help simplify communication and management of complicated insurance requirements, even for insurance products not purchased through the platform.
Nitschke said that Bunker defies precedent in the insurance world. "There really isn't a category for what we do – nobody has ever taken this approach before. It's an entirely new model," he said.
Nitschke describes the company as "a modern digital broker/MGA … that is hidden behind an enterprise Saas [Software as a Service] platform which automates the management of the insurance requirement process."
He added that this system lets Bunker "change the point-of-sale, deliver the exact insurance policy a small business or 1099 worker needs to meet the myriad of requirements they run into from clients, landlords, and others who require specific insurance."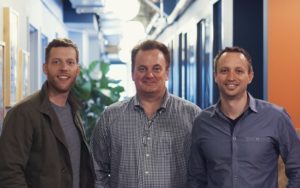 Bunker sees particular opportunity with the 1099/independent contractor industry, and cites statistics from Ardent Partners that point to the sector growing to as much as 45 percent to 50 percent of the workforce by the end of 2017; the sector is at about 29 percent to 32 percent right now, according to Ardent.
Bunker, which also has an office in Madison, Wisconsin, disclosed a $2 million seed funding round in June, co-led by Comcast Ventures and Route 66 Ventures. Hiscox and American Family's venture arms also participated in the round. About 13 people work for Bunker now but the number is growing, Nitschke said.
Nitschke added that Bunker is trying to be "thoughtful" about its insurance partner relationships, choosing to focus initially "on a handful of carriers that have a strong value proposition and product offering for independent contractors, freelancers and small businesses." Hiscox and Travelers fit this description and are among the carriers Bunker is working with, Nitschke said.
Related:
Topics Carriers Agencies InsurTech Contractors Small Business Startups
Was this article valuable?
Here are more articles you may enjoy.