Mike LaRocco, who took over president and CEO of State Automobile Mutual Insurance Co. in May 2015, has won the support of the company's board of directors for an extension of his contract until Dec. 31, 2021.
LaRocco has been credited with turning around the super regional carrier that a few years ago was dealing with rising expenses, shrinking profits and declining business.
LaRocco's current contract was set to expire at the end of 2018.
According to documents filed with the Securities and Exchange Commission, LaRocco will receive an annual base salary of $1,040,000, which is subject to annual increases, and participate in the company's short-term and long-term incentive bonus plans.
State Auto ended 2015 with a sizable drop in net income and a combined ratio above 100 before the firm under LaRocco began taking corrective steps to improve commercial and personal auto pricing, exit unprofitable accounts and lines, and grow homeowners' business. The turnaround is not complete but there are signs of progress. For the first nine months of 2017, the combined ratio was over 110 but that included 12 points of catastrophe losses and, compared to last October, new business sales have more than doubled, according to the company.
Within months of taking over, LaRocco had reorganized and installed a new leadership team.
During LaRocco's tenure, the carrier has introduced technology platforms that it says have boosted new business. It has rebuilt its pricing and underwriting models. It began offering usage-based insurance offerings for personal and commercial auto products.
In personal lines, the company also increased the number of agency appointments and implemented pricing changes to improve its competitiveness. It started offering discounts for smart home technology to homeowners.
In commercial lines, it exited large account business including in transportation, boosted rates and underwriting to improve profitability in commercial auto line, and made changes to its regional sales teams.
In 2016, the company stopped writing program business and realigned its excess and surplus lines unit, Rockhill Insurance. But this year it decided to exit the excess and surplus business completely. That exit is still in progress.
This past September, State Auto Labs Corp., the carrier's innovation arm, launched a $25 million corporate venture fund to support entrepreneurs in the insurance technology space. The insurer hopes to become an early adopter of new technologies through the effort.
LaRocco's Resume
When he succeeded Robert P. Restrepo Jr. as CEO, LaRocco brought with him a resume with more than 35 years in the property/casualty insurance industry. He has served as president and chief operating officer at Safeco Insurance Companies and president and CEO of Fireman's Fund Insurance Co. His insurance career began with management and executive roles at Progressive and GEICO.
LaRocco also served as president and CEO of AssureStart, a Seattle-based technology startup selling general liability and property insurance to small businesses online.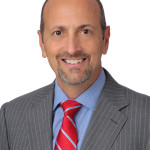 "As a result of Mike's leadership, State Auto is now poised to truly compete and win," said State Auto Mutual Chairman Jim Kunk in announcing the contract extension. "We're pleased that Mike has agreed to continue to lead the transformation of the company."
Lead Director David Meuse said LaRocco and his leadership team "have made remarkable progress in State Auto's turnaround over the past two years."
Q2 and Q3 Results
Earlier this month, State Auto Financial joined other insurers in reporting catastrophe-laden results for the third quarter 2017. State Auto Financial's third quarter results included a net loss of $9.5 million, compared to net income of $10.1 million for the same 2016 period.
For the first nine months of 2017, the company had a net loss of $4.9 million compared to a net loss of $11.5 million for the same 2016 period.
STFC's combined ratio for the third quarter 2017 was 114.8 compared to 105.0 for the same 2016 period. Catastrophe losses during the third quarter 2017 accounted for 17.6 points of the 79.5 total loss ratio points, or $56.1 million, versus 2.5 points of the total 71.3 loss ratio points, or $8.1 million, for the same period in 2016. Catastrophe losses were largely driven by Hurricanes Harvey and Irma in the specialty business.
The third quarter loss followed disappointing results in the second quarter, which resulted in a net loss of $24.6 million versus net income of $2.7 million for the second quarter of 2015. The results were blamed on catastrophe losses, including major storms in Texas, and further adverse development in the automobile lines of business. The combined ratio for the second quarter 2016 was 114.7 versus 106.1 for the second quarter of 2015.
After the second quarter 2017 results LaRocco stated that although the auto insurance sector performed "worse than expected," the company had "improved operations and closed the quarter with strong and appropriate reserves."
After the third quarter results, LaRocco struck another positive note. Setting aside the hurricane losses, the results reflected progress in implementing his strategy, he said.
"The continued focus on executing our strategy is producing results with new business growth across personal lines, including five additional states recently coming online with our new digital technology platform," he said, noting that the new platform is now in 17 states.
In commercial lines, the carrier launched its new technology platform in Illinois and said it will move into additional states through the end of 2017 and into 2018.
"We're thrilled that our independent agency partners are embracing both our personal and commercial lines platforms, with strong quote volume and new business," LaRocco said.
"Our focus remains achieving our goal of profitable growth. During the third quarter of 2017, momentum continued to build, and I remain confident that we will succeed," LaRocco said.
E&S Exit
He also affirmed the decision to exit the E&S lines of business.
"Based on our previously announced strategic review of the excess and surplus lines business, we have decided to exit the specialty segment and continue to invest our capital in our core lines of business," he said.
The firm plans to exit the E&S business either through a series of renewal right transactions or by placing lines of business into run-off. The end result will be the end of the specialty insurance segment. The company has not announced a timetable to complete he exit.
Overall the specialty unit wrote $257 million in premium in 2016 — about $44 million in property, $100 million in casualty and $113 million in program business.
State Auto has been in the E&S market since 2009 when it acquired Rockhill Insurance Group, which included Rockhill Insurance Co., Plaza Insurance Co., American Compensation Insurance Co. and Bloomington Compensation Insurance Co.
In addition to the Rockhill companies, State Auto Group also includes State Automobile Mutual, State Auto Property & Casualty, State Auto Ohio, State Auto Wisconsin, Milbank, Meridian Security and Patrons Mutual.
Related:
Topics Carriers Catastrophe Auto Profit Loss Excess Surplus Tech
Was this article valuable?
Here are more articles you may enjoy.