The S&P 500 has plummeted more than 5 percent since early October. The culprit: slowing earnings growth stemming from rising interest rates and oil prices, according to Goldman Sachs Group Inc.
That straightforward theory might work as a catch-all, but for certain companies the reasons for the malaise are far less cosmic. They involve one-off events, especially the recent hurricanes. If things revert back to normal, investors who are worried about trade wars or monetary policy undermining earnings might be in for surprises on the upside.
We looked at about a dozen companies that analysts have soured on the most — cutting their earnings-per-share estimate by at least 5 percent. Among them, insurers American International Group Inc. and Chubb Ltd. have found themselves in the crossfire of Hurricanes Florence and Michael.
Ford Motor Co. cited "a tale of two hurricanes" for tumbling F-Series pickup sales. And its troubles spilled into the materials sector. PPG Industries, a maker of automotive paints that counts Ford among its biggest customers, saw its stock fall as much as 9.2 percent on Tuesday. PPG blamed falling demand in China and factors that would affect "most of the auto suppliers."
Hurricane Florence was also responsible for flooding to at least three quarries run by Martin Marietta Materials Inc., driving its stock to the lowest levels in two years. The company is the largest U.S. producer of crushed stone and sand.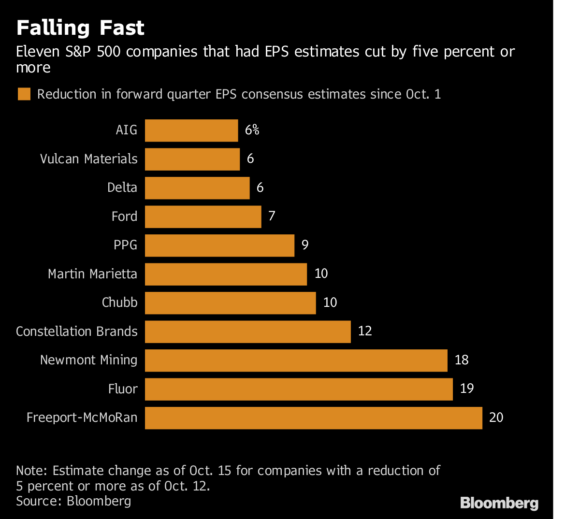 Not all the bad news could be blamed on exogenous factors. Analysts slashed Fluor Corp.'s earnings estimates, citing "execution issues." And Wall Street reduced Constellation Brands Inc.'s expectations for the third quarter after the company said it had increased wine and spirit sales earlier in the year in order to avoid shipping constraints to customers during the holiday rush
–With assistance from Craig Giammona, Danielle Bochove and Joelle Kruczek (Bloomberg Global Data).
Copyright 2021 Bloomberg.
Was this article valuable?
Here are more articles you may enjoy.