Low risk, but low readiness.
That's the assessment for Long Beach, Calif., a city that's close to my heart.
For those who love numbers, the city has a risk score of 49.48, and a readiness score of 47.01. Not entirely sure if that's good or bad on a scale of 0-100. Sounds middling.
Researchers at the University of Notre Dame have completed a two-year study of the current climate risks of more than 270 U.S. cities to come up with the Urban Adaptation Assessment, a free measurement and analysis tool that explores a city's risk from, and its readiness for, climate change.
The assessment provides the projected cost and probability of climate-related hazards in 2040.
Categories included in the risk score are exposure, sensitivity and adaptive capacity.
Boston, Mass., which has a risk score of 45.98 and a readiness score of 60.31 – low risk, high readiness – is expected to fare well despite an anticipated 1.2-feet of sea level rise by 2040, according to the assessment. The biggest risks for Boston are listed as drought and extreme heat.
Beantown earned a high readiness score thanks to the city's apparent preparedness in the economic and governmental categories. The economic score – Boston got an 85.1 – includes bond worthiness, city debt per resident and tax incentives for renewable energy.
The governmental score includes the estimated percent of adults who think global warming is already harming or will be harming Americans within the next 10 years, percent of population with a 12th grade education or higher and total number of federal public corruption convictions by district. Boston earned an 80.7 score in the governmental section.
According to the assessment, eight of the top 10 cities facing the highest likelihood of extreme heat in 2040 are located in the Midwest, while hurricanes on the East and Gulf coasts have already brought record amounts of rainfall and flooding to communities in Texas, Louisiana and the Carolinas.
Grand Rapids, Mich., received a risk score of 44.97 and a readiness score of 51.99. The biggest climate risks to the city are from heat and drought, according to the assessment. In Beaumont, Texas, the biggest risks are from flood (62.5) and sea level rise (69.2).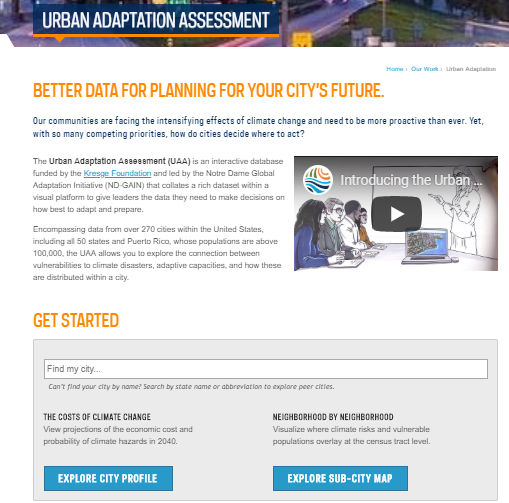 In Miami, Fla., with a risk score of 46.35 and a readiness score of 35.07, the flood risk score is high at 68.3. That makes sense, but the greatest risk is extreme heat, with a score of 83.9.
The assessment was developed to help cities prioritize adaptation efforts by identifying populations on the front lines of climate change that do not have resources to adequately adapt to their particular climate risks, according to researchers.
The assessment also includes sub-city mapping, which is intended to provide a picture of how city and sustainability officials can implement more inclusive adaptation options for all residents.
"This is a platform to help inform policymakers grappling with questions about local-level adaptation strategies," Patrick Regan, director of Notre Dame's Global Adaptation Initiative, said in an announcement of the assessment. "By providing quantitative analysis of cities in an open-source format, our goal is to encourage policy and adaptation innovation."
Exxon
New York is suing oil giant ExxonMobil claiming the company engaged in a "longstanding fraudulent scheme" to downplay risks posed to its business by climate change regulations.
New York Attorney General Barbara Underwood this week filed a fraud lawsuit against Exxon in state court in Manhattan, accusing the company of misleading investors about how future regulations could impact its business.
The lawsuit centers on Exxon's use of so-called proxy costs for carbon to calculate the financial impact of future regulations on the business. The costs are supposed to assure long-term investors including institutional shareholders and pension funds that they wouldn't be taken by surprise, however Underwood charges it was a ruse.
"Exxon built a facade to deceive investors into believing that the company was managing the risks of climate-change regulation to its business when, in fact, it was intentionally and systematically underestimating or ignoring them, contrary to its public representations," Underwood said in a statement.
New York is seeking an order prohibiting Exxon from continuing to make misrepresentations and forcing the company to correct its past claims and seeks unspecified damages and a disgorgement of all profit derived from the alleged fraud.
Exxon spokesman Scott Silvestri called the lawsuit "tainted" and meritless.
Underwood said that investors put their money and their trust in Exxon as the company wrongly claimed to be factoring the risk of increasing climate change regulation into its business decisions.
"Instead, Exxon built a facade to deceive investors into believing that the company was managing the risks of climate change regulation to its business when, in fact, it was intentionally and systematically underestimating or ignoring them, contrary to its public representations," Underwood said.
Climate suits from state and local governments from the East to the West are en vogue.
The city of Baltimore filed a lawsuit in July against 26 oil and gas companies and entities, including BP Plc, Chevron Corp and Exxon Mobil Corp, for knowingly contributing to what the city called the catastrophic consequences of climate change.
That same month Rhode Island Attorney General Peter Kilmartin filed a lawsuit against 21 fossil fuel companies demanding damages associated with sea level rise and water cycles.
Boulder, Colo. and two nearby counties in April accused Exxon Mobil Corp. and Suncor Energy Inc. of "causing and exacerbating climate change" in a state-court lawsuit. The Colorado communities said they're facing expenses and costs related to earlier snow melt, which has increased the risk of forest fires, dried-out soil, beetle outbreaks and drought.
Liberty for Animal Lovers
The Animal Legal Defense Fund has filed a lawsuit to compel federal government action on climate change.
Plaintiffs include scientists, nature enthusiasts and wildlife advocates who say they are no longer able to safely conduct their research or interact with nature because of the increased severity of wildfires, and mudslides. They also list avalanches, disappearing snowpack and edible plants and flash flooding.
"The Animal Legal Defense Fund is leading the charge on this groundbreaking claim because it is time to reevaluate the standards by which we protect our wildlands," Animal Legal Defense Fund Executive Director Stephen Wells said in a statement. "By safeguarding the necessary habitats to sustain wildlife, we will also be upholding Americans' right to seek happiness, liberty and solitude in nature."
According to the group, which is among a coalition of organizations and individuals involved in the lawsuit, the legal actions rely on the constitutionally established right to liberty, which courts have called the right to be let alone.
The group argues that as society becomes increasingly urbanized and digitally connected, the only place where the right to liberty truly exists is in the remoteness of America's public lands.
The problem, the group says, is that "anthropogenic climate change" is damaging once-pristine natural areas making them more dangerous and less navigable by humans and animals alike due to increased incidences of catastrophic wildfires, unexpected ice melts and flash flooding.
The complaint connects federal inaction to reduce greenhouse gas emissions with the resulting decline in the ability of Americans to enjoy their right to be let alone in the wilderness due to the adverse effects of climate change on these natural places.
The lawsuit names the Department of Interior, and the Department of Agriculture, among other agencies.
WSJ
The Wall Street Journal took a look at climate change and how it's impacting the insurance industry in a detailed, highly illustrated article.
According to the article, with the headline "Climate Change Is Forcing the Insurance Industry to Recalculate," insurers are at the vanguard of a movement to put a value on the unpredictable future of a warming planet.
The article features interviews with several executives at insurers, such as one top person at Aviva PLC talking about the impact of the 2016 Fort McMurray fires on the Canadian carrier.
"That is not a type of loss we have experienced in that part of the world, ever," Maurice Tulloch, chief executive of Aviva's international insurance division, told WSJ. "The previous models wouldn't have envisioned it."
According to Tulloch, Aviva studied the fires and concluded they were an example of how the Earth's gradually warming temperature is changing the behavior of natural catastrophes and increased premiums in Canada as a result.
Torsten Jeworrek, chief executive for reinsurance at Munich Re, told WSJ it's no longer a question anymore of, "Is there climate change?"
"For us, it's a question now for our own underwriting," Jeworrek said.
The article notes that insurers are acting on climate change by building models intended to more accurately estimate the impact, which leaves the industry with the question of how to reflect that new understanding of underlying risk in premiums.
Arch Capital Group Ltd., for example, has reportedly written less property catastrophe reinsurance in recent years as prices have dropped and as industry results have been volatile, in part due to losses attributed to climate change.
"It takes a lot of premium, a lot of margin, to account for this increased uncertainty, and I'm not sure we're doing a good job of reflecting this and charging appropriately for it," Marc Grandisson, chief executive of Arch, was quoted as saying in the WSJ article. "We need to incorporate a greater range of possible outcomes into our pricing."
Past columns:
Was this article valuable?
Here are more articles you may enjoy.