Washington had a record 1,850 responses to wildfires on Department of Natural Resources lands last year.
Over the last five years, wildfires have continued to hit the state hard.
One state official, who believes climate change is partly to blame, is not optimistic about future wildfire conditions in the state.
"And it's only getting worse," said Hilary Franz, commissioner of public lands for Washington.
Franz made that comment while being interviewed by Kirk Siegler, a national correspondent for National Public Radio.
Siegler and Franz were speaking at the 5th Annual Sun Valley Forum, which was held from July 23 to July 26 in Idaho, where hundreds of leaders from the public and private sectors, as well as activists and luminaries were gathered to talk about climate change.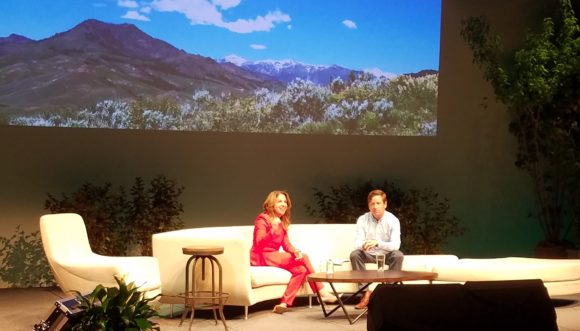 This year's speakers included executives focused on sustainability at corporations like Amazon, IBM and Microsoft, as well as academics, activists, actors, military officials, and plaintiffs in the renown Juliana v. The United States of America climate change lawsuit.
The forum was sponsored by groups including The Leonardo DiCaprio Foundation, Hillary Institute, Idaho National Laboratory and the Weather Company.
Included this year for the first time was a panel on insurance, "The Future We Want: Insurers Driving Resilience."
Disclosure: I was asked to be on the insurance panel to speak about the top news headlines on climate change and insurance, so I could not cover it as a reporter. Videos of each panel are expected to be posted in coming weeks.
The insurance panel featured Washington Insurance Commissioner Mike Kreidler, Olaf Sleijpen director of insurance supervision at De Nederlandsche Bank N.V. (the Dutch central bank), and Jodi Bond, executive vice president and head of global government and industry affairs for Chubb.
The panel was moderated by Jay Bruns, Kreidler's senior climate policy advisor commissioner.
Aimée Christensen, executive director of the Sun Valley Institute, the host of the forum, said organizers decided to add an insurance panel this year because insurers are on the "front lines" of the impact that climate change will have on the planet.
"As we work to accelerate action to build a more resilient world, we wanted to include a focus on insurance because of the growing risks environmental disasters and rapidly accelerating climate change present," Christensen said. "Insurers are at the front lines, seeing the acute, global security and economic impacts of our changing climate, providing a unique breadth and depth of understanding of what is before us."
The panel on which Franz appeared, "Accelerating Innovation: Building Rural Resilience," was part of an "Accelerating Innovation" theme throughout the conference, with topics including plastic pollution in the oceans, getting Wall Street on board to battle climate change, and clean energy opportunities.
According to Franz, her state of Washington has spent an average of $153 million a year to fight wildfires over the past five years.
"We're seeing more significant wildfires every year," Franz said.
Besides climate change, part of the state's problem is numerous dead or dying trees providing fuel to potential fires. The central and eastern portions of the state alone have an estimated 2.7 million acres of unhealthy forest, according to the Washington Department of Natural Resources.
Franz talked about Washington's 20-Year Forest Health Strategic Plan, which sets a goal of restoring 1.25 million acres of forest to healthy conditions, increasing fire resilience and better protecting communities.
"Accelerating Innovation: Cities As Innovation Laboratories," was the title of a panel with Ksenia Koban, vice president of Payden & Rygel Investment Management, Adam Marvel, managing director of Imfoco, Bruno Sarda, president of CDP North America, and Steve Wysmuller, global lead meteorologist with IBM/The Weather Company.
Sarda talked about the work being done at CDP, a not-for-profit charity that runs a global disclosure system for investors, companies, cities, states and regions. nAccording to Sarda, CDP has the backing of 525 investment managers with $96 trillion in assets.
Sarda said there has been a growth in interest from all sectors in disclosing investments. "Disclosure helps," he added.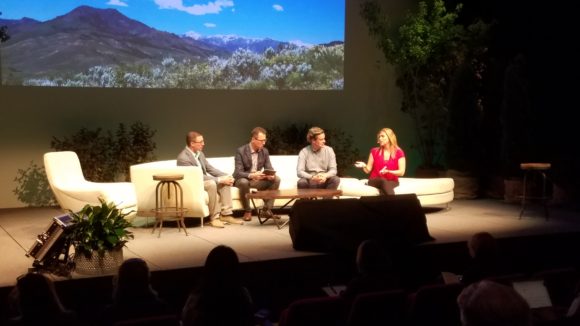 Sherri Goodman, senior advisor for international security for the Center for Climate and Security and secretary general of the International Military Council on Climate Security, talked about climate change as a "threat multiplier" for instability in the fragile regions of the world.
"And now we see it here at home," she added.
Goodman hosted a panel titled "The Future We Want: Military Leadership For Climate Security."
Speakers on the panel included Lt. General Arlen Jameson, who retired from the U.S. Air Force after more than three decades of service. His final assignment was as deputy commander-in-chief of the U.S. Strategic Command. Also on the panel was Admiral Paul Zukunft, who was the 25th commandant of the U.S. Coast Guard. Zukunft, who served as commandant from 2014 until 2018, amassed 41 years of active duty service.
Zukunft, who emphasized that it's the Coast Guard's job to protect the seas, shared his experience touring the world as the commandant and what he saw. "We need to start planning for what are the implications of rising sea level," he said.
Zukunft believes continued sea rise is inevitable because the goals of keeping global warming to 2 degree Celsius as outlined in the deal signed by most of the world's nations in Paris in 2016 may now be beyond reach. "In my estimation we will blow through the 2 degrees in the Paris Climate accord," Zukunft said.
Jameson said he believes the country may already be seeing the effects of climate change on the nation's military infrastructure, using as an example the damage Hurricane Michael wrought on Tyndall Air Force Base in Florida in 2018. The storm's 155-mile-per-hour winds shredded buildings and left the base a mess. "It's become clear that we can't ignore it," Jameson said.
Goodman addressed major weather hits on Tyndall, Offutt Air Force Base in Nebraska and Marine Corps Base Camp Lejeune in North Carolina. "The cost estimates to repair all those bases are $8 billion," she said.
Zukunft also talked about sea ice in the Arctic, or lack of it, as a military concern. "We're dealing with the consequences," he said. "We've had an ocean open up that didn't exist."
Russia has taken advantage of the melting ice by establishing a division of a new Russian missile system that is now operational in the Arctic, while the nation has 41 ace breakers vs. only two for the U.S.
Zukunft believes the U.S. must pay closer attention to the changes in the Arctic, and Russia's growing foothold in the area, as well as how the developing situation has the potential to put America at a strategic disadvantage.
"It's Sputnik revisited," he said.
Past columns:
Topics Catastrophe Natural Disasters USA Russia InsurTech Wildfire Washington Climate Change Training Development
Was this article valuable?
Here are more articles you may enjoy.