In an update issued at 4 p.m., CDT, on July 12, the National Hurricane Center said Tropical Storm Barry is expected to make landfall as a category 1 hurricane along Louisiana's central Gulf Coast on July 13.
The NHC is predicting dangerous storm surge, heavy rains and wind conditions across the north-central Gulf Coast resulting from the storm.
"After landfall, Barry is expected to move generally northward through the Mississippi Valley through Sunday night," the NHC said.
As of the 4 p.m. update, Barry's maximum sustained winds were nearing 65 mph with higher gusts, the NHC said. Tropical storm force winds extended outward up to 175 miles from the center. The minimum wind speed threshold for a storm to be considered a hurricane is 74 mph. The NHC said that maximum sustained winds of 74 mph and a wind gust of 85 mph at an elevation of 295 fee had been reported at an oil rig situated off the Louisiana coast southwest of the mouth of the Mississippi River.
While wind damage is to be expected with any hurricane, the bulk of Barry's threat will come from water. The storm is expected to produce total rainfall amounts of 10 to 20 inches across south central and southeast Louisiana and southwest Mississippi. In addition, isolated maximum amounts of 25 inches could occur, the NHC said.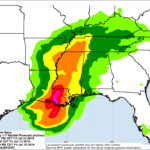 Louisiana Gov. John Bel Edwards declared a state of emergency in advance of the storm, which comes at a time when the Mississippi River is already high due to heavy rain and upriver flooding that has made its way southward.
The Associated Press reported that Edwards said the Mississippi River is not expected breach the levees around New Orleans but cautioned the situation could change if the storm's direction or intensity shifts.
The city of New Orleans has called for voluntary evacuation in areas outside of the levee system in Orleans Parish. The city said a storm surge of three to six feet is possible. Road closures due to the anticipated high water means that public safety personnel will not be able to respond in those areas.
According to California-based data analytics provider CoreLogic:
339,480 homes in Louisiana are at moderate-to-extreme risk of tropical storm-driven flash flood damage from Barry.
Within the likely impacted metro- and micro-politan areas of Louisiana, 32.6% of homes are located within a Special Flood Hazard Area (SFHA). Homeowners in SFHAs are required to purchase flood insurance in these designated areas when their mortgages are backed by the federal government.
In an analysis released on July 12, CoreLogic stated: "The area along the Mississippi River, where concern is highest, appears to be able to withstand the amount of flooding expected. After Hurricane Katrina, $14 billion of levee and pumping capability improvements were made along the river; this event is not expected to cause catastrophic problems given these enhancements."
However, New Orleans Mayor LaToya Cantrell told the AP that while the pumping system that drains the city's streets is working as designed, Barry could dump water faster than the pumps can move it. The city already has been experiencing street flooding this week from heavy rainfall unrelated to Barry.
"We cannot pump our way out of the water levels … that are expected to hit the city of New Orleans," Cantrell warned.
Private and Federal Flood Policies in Louisiana
The following tables show the top writers of private and federal flood policies in Louisiana by market share:
Private Flood
Source: AM Best
Data Year: 2018
State/Territory: Louisiana
Line of Business: Private Flood
Direct
Market
Overall
Premiums
Share
Rank
Written
(DPW)
(DPW)
Company Name
($000)
(%)
1
FM Global Group
9,236
45.01
2
Assurant US PC Companies
3,359
16.37
3
Zurich Financial Services NA Group
2,643
12.88
4
Liberty Mutual Insurance Companies
1,180
5.75
5
Swiss Reinsurance Group
1,156
5.63
6
American International Group
1,047
5.10
7
Berkshire Hathaway Insurance Group
634
3.09
8
Allianz of America Companies
542
2.64
9
Alleghany Insurance Holdings Group
507
2.47
10
Bankers Financial Group
143
0.70
11
Progressive Insurance Group
74
0.36
12
AXA U.S. Group
8
0.04
13
Hanover Insurance Grp Prop & Cas Cos
3
0.02
14
Tokio Marine US PC Group
2
0.01
15
CNA Insurance Companies
1
0.01
16
Hartford Insurance Group
1
0.00
Selection Total
20,536
100.08
Total US PC Industry
20,519
100.00
Federal Flood
Source: AM Best
Data Year: 2018
State/Territory: Louisiana
Line of Business: Federal Flood
Direct
Market
Overall
Premiums
Share
Rank
Written
(DPW)
(DPW)
Company Name
($000)
(%)
1
Wright National Flood Insurance Company
72,905
32.98
2
Allstate Insurance Group
30,952
14.00
3
Assurant US PC Companies
22,009
9.96
4
National General Companies
17,118
7.74
5
Southern Farm Bureau Casualty Group
11,133
5.04
6
Selective Insurance Group
10,737
4.86
7
Hartford Insurance Group
9,438
4.27
8
USAA Group
8,726
3.95
9
Progressive Insurance Group
8,136
3.68
10
Bankers Financial Group
6,301
2.85
11
Liberty Mutual Insurance Companies
5,765
2.61
12
American International Group
4,667
2.11
13
American National Prop & Cas Companies
3,898
1.76
14
Centauri Insurance Group
1,716
0.78
15
American Family/Main Street America Grp
1,686
0.76
16
Farmers Insurance Group
1,368
0.62
17
IAT Insurance Group
1,226
0.55
18
United Insurance Group
964
0.44
19
Gulfstream Insurance Group
752
0.34
20
MetLife Auto & Home Group
407
0.18
21
Tokio Marine US PC Group
363
0.16
22
QBE Americas Group
206
0.09
23
Southern Fidelity Insurance Company
185
0.08
24
PURE Group of Insurance Companies
183
0.08
25
Westfield Group
90
0.04
26
First American PC Companies
62
0.03
27
Capitol Preferred Insurance Co, Inc.
52
0.02
28
American Capital Assurance Corp
9
0.00
29
Conifer Insurance Group
8
0.00
30
FedNat Insurance Group
1
0.00
Selection Total
221,063
100.00
Total US PC Industry
221,062
100.00
Was this article valuable?
Here are more articles you may enjoy.