Tennessee Governor Bill Lee has selected Carter Lawrence to serve in his cabinet as commissioner of the Tennessee Department of Commerce & Insurance, effective immediately, according to a statement form the governor's office.
"Carter is a proven public servant who has stewarded key priorities for the administration throughout his tenure and I'm confident he'll continue to support Tennessee businesses and consumers with integrity," said Lee. "We appreciate his dedication to the Department of Commerce & Insurance and look forward to his continued service."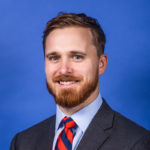 Lawrence previously served as chief deputy commissioner and chief operating officer at the Department of Commerce & Insurance.
A lifelong Tennessean and Nashville native, Lawrence earned his Doctor of Jurisprudence and a Master of Business Administration at the University of Tennessee, Knoxville. Prior, he graduated from Wheaton College in Illinois.
Lawrence thanked Lee for the appointment on Twitter, saying "It is an incredible honor to work for you in serving my fellow Tennesseans and I look forward to continuing the great work of [the Tennessee Department of Commerce & Insurance]."
Carter takes over for Hodgen Mainda, who resigned last month. After his resignation, the Associated Press reported Mainda faced an investigation over allegations of sexual misconduct by one of his department's employees. According to a Department of Commerce and Insurance investigation summary report, there was "insufficient evidence" to substantiate the allegation against Mainda stemming from a February conference in Florida.
Carter has also served on Tennessee's Economic Recovery Group throughout the COVID-19 pandemic, assisting Gov. Lee's efforts to reboot the state's economy.
Mainda was appointed commissioner by Lee last year after long-time commissioner Julie Mix McPeak stepped down to pursue opportunities in the private sector. Mainda previously served as vice president of community development at the Electric Power Board in Chattanooga.
Topics Tennessee
Was this article valuable?
Here are more articles you may enjoy.