New

You can now listen to Insurance Journal articles!
An Atlanta-area physician and owner of medical clinics has been sentenced to 36 months in prison for defrauding health insurance companies, a scheme that also has led to the indictment of former Georgia Insurance Commissioner John Oxendine.
Dr. Jeffrey Gallups from 2015 to 2017 had urged doctors at his maxillofacial clinics to order unnecessary lab tests for patients, then split the insurance payments with a Texas-based lab operation, according to court records and news reports. The plan left patients and insurers with large lab bills.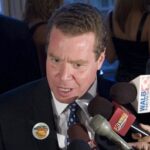 In a civil suit, Gallups' company also has agreed to pay $3 million to settle a whistleblower complaint charging that the company repeatedly bilked government health care programs, the Atlanta Journal-Constitution reported.
And in May, a federal grand jury indicted Oxendine, alleging that he was a middleman in Gallups' fraud schemes. Prosecutors said the Texas lab company paid kickbacks to Gallups through Oxendine, who took a cut, and that the commissioner pressured doctors to order the lab tests.
Oxendine, fresh off another years-long investigation into charges that he misused campaign funds, has pleaded not guilty to the health care fraud charges.
Topics Georgia
Was this article valuable?
Here are more articles you may enjoy.