A 29-year-old Wasilla, Alaska man suspected of driving a snowmobile down the Parks Highway has been charged with felony driving under the influence of alcohol.
Alaska State Troopers say Eric Hunter was arrested Wednesday night and also is charged with failing to stop at the direction of an officer and driving with a revoked license.
Troopers spokeswoman Megan Peters tells the Anchorage Daily News that an officer at 10:45 p.m. tried to pull Hunter over at Mile 51.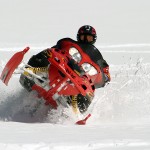 She says Hunter didn't stop and the trooper followed.
Peters says Hunter abandoned his snowmobile and took off into a wooded area.
A police dog tracked Hunter to a cabin. Troopers obtained a search warrant and found Hunter inside.
He remained jailed Friday morning at Mat-Su Pretrial Facility.
Copyright 2020 Associated Press. All rights reserved. This material may not be published, broadcast, rewritten or redistributed.
Was this article valuable?
Here are more articles you may enjoy.