As Firefighters gained ground overnight on a string of major wildfires in the San Diego area, nine fires in all were burning in more than 14 square miles, according to San Diego County officials.
One fire in the city of San Marcos burned out of control Thursday. The 700-acre blaze threatened several structures, and more than 20,000 evacuation notices were sent out to residents. The brush fire prompted the evacuation of Cal State University San Marcos.
In Carlsbad, where the blaze was roughly 60 percent contained and had consumed 400 acres, at least four homes and an 18-unit condominium complex were destroyed, according to city officials.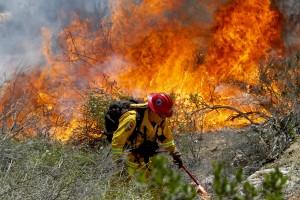 Ground had been gained on other fires overnight. The Tomahawk fire near Camp Pendelton Marine Corps Base had burned roughly 6,000 acres as of Wednesday afternoon.
Gov. Jerry Brown declared a state of emergency for San Diego County, which would free up special resources and funding for the firefight, and state fire officials were creating a central command center for the blazes.
Persistent drought conditions over the Western U.S. have caused some experts to express concerns that this year could be the year of the next mega fire for California, with incidents similar to 2007 and 2003 in which hundreds of thousands of acres were burned and several thousand homes were destroyed.
The cost of an early wildfire season may rise as high as $1.8 billion, or nearly $500,000 more than what's available to control the blazes, according to a report issued at the beginning of May.
Copyright 2020 Associated Press. All rights reserved. This material may not be published, broadcast, rewritten or redistributed.
Was this article valuable?
Here are more articles you may enjoy.