A wildfire that started in a scenic canyon snaked toward Flagstaff on Thursday, prompting residents of outlying areas to prepare to flee and blanketing the city in smoke.
The human-caused Slide Fire started Tuesday and had burned 7.5 square miles in and around Oak Creek Canyon, a scenic recreation area along a highway between Sedona and Flagstaff.
Fire incident commander Tony Sciacca said the fire was 3 to 3 1/2 miles away from the residential areas of Forest Highlands and Kachina Village, where 3,200 residents remained under pre-evacuation warnings.
Sciacca said 500 firefighters were assigned to the fire Thursday, with an additional 200 personnel expected by later Thursday as more crews and engines arrive.
The weather may help, with weaker wind and slightly higher humidity expected Thursday and a chance of rain by Friday.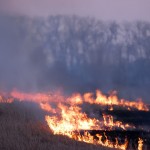 The fire broke out at the start of the tourist season and closed the main road between Sedona and Flagstaff. It's burning near Slide Rock State Park, a popular recreation area because of its natural rock water slides.
Sophie Lwin, of Peoria, said she had relatives from the Los Angeles area coming in for a weekend at the
There were no reports so far of injuries or structures burned.
The fire forced the evacuations of 100 threatened businesses and homes in a 2-mile stretch north of the state park, and 15 people stayed at a shelter in Flagstaff.
As the fire moved up the canyon's steep walls, it sent up large amounts of smoke and ash and created hazy conditions in Flagstaff, about 15 miles from the blaze.
The fire comes less than a year after a blaze in nearby Prescott killed 19 firefighters who were part of a Hotshot crew.
Copyright 2020 Associated Press. All rights reserved. This material may not be published, broadcast, rewritten or redistributed.
Was this article valuable?
Here are more articles you may enjoy.