Rain forecast this week in Alaska may help crews gain control over a massive wildfire that forced dozens of people to flee to shelters and move some of their animals to safety at rodeo grounds.
The Funny River Fire in the Kenai Peninsula covered nearly 248 square miles as of Monday morning and was 30 percent contained, according to the Alaska Interagency Management Team.
No injuries or structure damage was reported, officials said.
Authorities on Sunday ordered the evacuation of 1,000 homes and other structures in a sparsely populated area 60 miles south of Anchorage.
The human-caused fire was sparked May 19 in the 1.9 million-acre Kenai National Wildlife Refuge.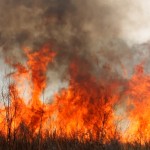 The weather forecast for the area calls for rain Tuesday and Wednesday, with sunny skies returning later in the week.
Two Red Cross shelters have been set up. Many of the displaced residents are staying with friends and relatives, and others are staying in campers in the parking lot of an elementary school where one of the shelters was opened.
The fire is affecting an area where structures are scattered rather than lined up closely as in urban neighborhoods. The size of the blaze is not unusual for Alaska but the state does not usually see such large fires this early in the season.
The wildfire is the most active of several large wildfires burning in the vast state. Firefighters have been flown in from Oregon, Montana and Canada to help Alaska crews.
The state is experiencing unusually dry conditions because of unseasonably warm spring temperatures.
Copyright 2020 Associated Press. All rights reserved. This material may not be published, broadcast, rewritten or redistributed.
Was this article valuable?
Here are more articles you may enjoy.