One central Washington wildfire has burned across 28 square miles in just two days while another has broken out in hot, dry conditions.
The Mills Canyon fire near Entiat has burned across more than 18,000 acres since it started Tuesday, according to fire officials. Residents of about a dozen homes have been told to evacuate, while more than 200 other homes were threatened.
A 30-mile stretch of U.S. Highway 97A reopened Thursday after being closed for 24 hours by the fire.
Nearly 40 miles away, on the west side of Lake Chelan, the new 25-Mile Fire quickly burned across about 350 acres by Thursday evening. Some residents have been told to leave their homes.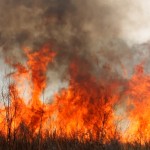 By late Thursday night, that fire was burning away from homes and deeper into Forest Service land, KING-TV reported.
About 450 firefighters attacked the Mills Canyon blaze Thursday. None of the fire has been contained, fire officials said.
Firefighting conditions improved a little as the wind dropped. No homes have been reported burned, and there have been no injuries reported.
Near Spokane, a wildfire near Ford in Stevens County has burned about 1 square mile but was reported 80 percent contained.
Another fire burned two mobile homes, as well as outbuildings and vehicles, near Yakima. It spread across 20 acres of brush before firefighters bulldozed a line around it Wednesday night.
Copyright 2021 Associated Press. All rights reserved. This material may not be published, broadcast, rewritten or redistributed.
Was this article valuable?
Here are more articles you may enjoy.