A Southern Oregon wildfire destroyed six homes and 14 other buildings, and dozens of additional blazes ignited after thousands of lightning strikes lashed the state.
The Moccasin Hill fire began Sunday near the ranching town of Sprague River, about 25 miles northeast of Klamath Falls, fire officials said.
The blaze encompasses 4 ½ square miles, and it caused about 100 people to evacuate, though some have returned, according to officials.
A shelter for displaced residents has been set up at the Sprague River Community Center. Only one person spent the night, but more people filtered in Monday to take advantage of food and other services, said Julie Miller, spokeswoman for the American Red Cross Cascades Region.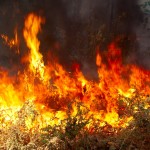 Lightning struck Oregon more than 6,000 times Sunday and Monday, touching off small fires by the dozens on both sides of the Cascades. Such a barrage can be expected to cause numerous "sleeper" or holdover fires in coming days, said Robin DeMario, spokeswoman for the Northwest Interagency Coordination Center.
The weather forecast calls for dry, hot afternoons in Washington and Oregon for the next week.
Copyright 2021 Associated Press. All rights reserved. This material may not be published, broadcast, rewritten or redistributed.
Was this article valuable?
Here are more articles you may enjoy.