The massive cloud of smoke began to lift over Washington wildfires over the weekend, but as air quality improves the fire's behavior could become more erratic and intense, fire officials said.
"It's like a flue opening in a fireplace," said Suzanne Flory, spokeswoman for the U.S. Forest Service and the Rocky Mountain Incident Management Team. "Smoke serves as a cap on the fire."
The Okanogan Complex of wildfires was measured at 374 square miles as of Sunday.
Once the smoke lifts, humidity drops, heat rises and fires can flare up.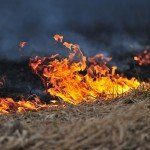 Flory said they would not know until early Monday how much the fire had grown on Sunday, but as of late afternoon, fire activity had been relatively quiet. Visibility and air quality improved Sunday.
The complex of fires was estimated to be about 10 percent contained as of Sunday morning, fire spokesman Dan Omdal said.
Containment does not mean the fire has stopped burning. It means it has run out of fuel to burn in that area, either because it has hit a man-made fire line, a drop from airplanes of fire retardant, a road or a lake.
Some of the land within the fire lines is still burning, but other sections have burned out.
"We call it a wildfire, but much of the fire has been tamed," Omdal said. "We are making progress,"
Copyright 2020 Associated Press. All rights reserved. This material may not be published, broadcast, rewritten or redistributed.
Was this article valuable?
Here are more articles you may enjoy.