An Uber driver is suing a California man accused of slapping and hitting the driver in an attack that was recorded on video.
KABC-TV in Los Angeles reported Edward Caban filed a lawsuit earlier this week in Orange County against 32-year-old Benjamin Golden.
The suit seeks damages in excess of $25,000 for assault, battery, and infliction of emotional distress.
Golden has been charged with assault and battery.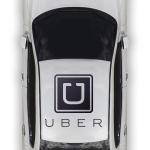 The Newport Beach resident is out of jail and couldn't be reached for comment.
Police say Golden, a former brand manager for Taco Bell, was ordered out of the car on Friday in Costa Mesa because he was too drunk to give directions.
Police say a dashboard camera video shows Golden slapping Caban, grabbing his hair and slamming his head against a window.
Related:
Copyright 2020 Associated Press. All rights reserved. This material may not be published, broadcast, rewritten or redistributed.
Was this article valuable?
Here are more articles you may enjoy.